Spelsberg has released a quick installation version of its fire-proof WKE cable junction box. The new WKE SL includes Wago tool-free cable terminals that save time for the installer. The junction boxes are rated to E30 circuit integrity class, meaning that they'll provide functional integrity for at least 30 minutes for fire alarm systems, acoustic systems, emergency lighting and elevators with evacuation function.
The new WKE SL enclosures feature screwless Wago TopJobS terminal blocks. With a flick of the thumb, the terminal connections are opened and the cable can be inserted and securely retained. This means tool-free use and makes cable installations much faster.
With E30 fire protection, the enclosure can be used to protect cable junction boxes connecting to equipment that needs to be safely active in the initial phase of a fire. E30 class protection is suitable for circuits connecting alarm units and beacons, as well as emergency lighting.
The new WKE SL cable junction boxes are rated up to 450 Vac and are available in three and five pole configurations. The boxes can accommodate cable coil cross sections from 0.5mm² up to 16mm², and each enclosure can take up to two or four cables. The outside diameters of the square enclosures are available in 115mm², 160mm², and 200mm². The enclosures are supplied with either two or three cable entry points and the appropriate cable glands are supplied.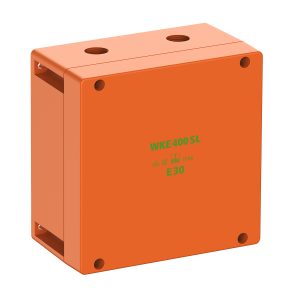 The enclosures are made from halogen-free special thermosetting plastic and are robust, rated to the high impact resistance IK08 certification. The boxes also meet IP66, making the units dust tight and providing protection against powerful water jets. The enclosures also meet the German VDE product standard.
"The WKE range is long established to provide essential protection to electrical circuits in the event of a fire," says Chris Lloyd, Spelsberg UK's Managing Director. "The new WKE SL enclosures now make cable junction fitting even faster and easier in installation, with tool-free flick-up terminal connections. This makes it quick and easy to provide security for circuits that are relied on to protect lives when it matters."