Fluke will again be offering a free product to customers who purchase Fluke products between 15th February 2021 and 30th June 2021. Customers who purchase Fluke products through authorised Fluke distributors have the opportunity to claim a free product. Claim the free product through the Fluke website with the original proof of purchase, invoice, or receipt.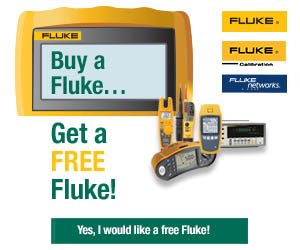 New choices in Free Fluke products
The Free Fluke products to choose from have been updated; you will find new choices in all eight levels of free tools to claim. They are separated based on the value of your qualifying purchase, starting at as little as only £200. For each level there is a fixed range of products to claim, based on the value of the original purchase through and authorised Fluke distributor. A qualifying purchase includes Fluke electrical and industrial test tools, Fluke Networks, and Fluke Calibration products. Full details for how to claim the free product, the range of tools available, and full terms and conditions can be found at www.fluke.co.uk/freefluke.
How does it work?
For example, at level one, after spending £200 on a qualifying purchase, the claim can be made for a free unique Fluke TPAK Magnetic Hangclip, a soft carrying case to protect the newly purchased instrument, a Fluke 2AC VoltAlert Non-contact Voltage Detector, or a Fluke MT-8202-05 IntelliTone carrying case. At the top levels, levels seven and eight, a claim for the free tool can be made for a range of Fluke measurement tools such as the Fluke TiS20+ Thermal Imager, a Fluke 1664 FC Multifunction Installation Tester or a PTi 120 Pocket Thermal Camera. Check all possibilities on www.fluke.co.uk/freefluke.
Fluke has everything engineers need for installation, maintenance, troubleshooting and repair in commercial, industrial and residential applications. The intuitive operation will save time when tracking down faults, meaning that the instruments immediately start paying for themselves.
Information about all Fluke products can be obtained via the Fluke website at www.fluke.co.uk.