Kohler Uninterruptible Power Ltd (KUP), a leading provider of critical power protection products and services, has unveiled its new PowerWAVE 3000/P1, the most energy efficient UPS unit in its class.
The PowerWAVE 3000/P1 solves the problem of providing economic-to-run dependable critical power protection for higher load single-phase applications such as vital servers, networks and telecommunications. Compact in size and easy to install and operate, this advanced new 10 kVA or 20 kVA double conversion model lowers energy costs and carbon emissions, whilst providing a stable and resilient supply of power.
Behind its class leading efficiency of 96.6% lies intelligent design, optimised air flow and highly efficient components.
With up to four units able to be connected in parallel for larger loads, dry-contact cards, network interface SNMP cards and responsive sensors allow close monitoring for maximum confidence and peace of mind. Other key features of this new unit include a bright 4.3" graphical touch screen display, providing quick access to an intuitive system menu and a maintenance bypass switch connection.
Dual feed input
The PowerWAVE 3000/P1 dual feed input design increases the levels of reliability and availability of the UPS system, a feature which is more commonly found in larger systems. This superior protection allows the load to be supplied directly from the mains power source.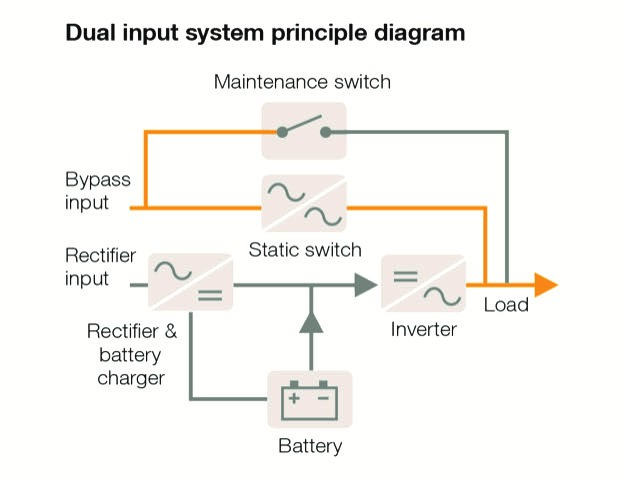 Longer runtime applications
For mission critical applications requiring longer runtimes or higher specification batteries, the PowerWAVE 3000/P1 employs an internal intelligent charging system with up to 12 Amps configured by the touchscreen display control panel. Additional matching battery cabinets can easily be added and have been designed both technically and aesthetically to complement the UPS, forming a combined unit which can easily be located without the need for special site considerations.
Compact footprint
At just 250mm x 826mm, the PowerWAVE 3000/P1 offers one of the smallest footprints available on the market, providing exceptional power density of 112kW/m2 at 20kVA / 20kW capacity in one cabinet, for the ever space conscious IT Manager.
Smart battery management
Intelligent battery management combined with exceptional efficiency of 96.6% means that PowerWAVE 3000/P1 battery sizing is optimised and longer runtimes are achieved. Maximum battery care is maintained by a three-level charging system to achieve the best possible performance and operating life. Unique self-learning function predicts more accurate back-up autonomy and improves information for the user.
David Renton, Managing Director for Kohler Uninterruptible Power, comments, "The dual feed PowerWAVE 3000/P1 is an unrivalled new addition to our market-leading UPS range. Capable of supporting higher loads with a much smaller footprint, it is ideal for space-limited areas in which only lower capacity units may have fitted previously."
He continues, "This new model offers efficiency, scalability and reliability for industrial processes, networks and telecommunication systems. I am delighted to offer this new system in our single-phase range, it's simple to install, run and maintain, offering our customers greater choice and flexibility."
Key features
Most energy efficient unit in its class (96.6%)
Unity power factor
Overall footprint of 0.1775 m2
Communications interface: Network interface SNMP card, dry-contact, Wi-Fi card, RS232
Dual feed
External maintenance bypass switch connection
Alarm history data log (500 events)
3" Graphical touchscreen display – user friendly, advanced interface
Premium quality EnerSys brand batteries as standard
Intelligent charging system able to support additional battery cabinets for extended autonomies
Further information can be found https://www.kohler-ups.co.uk/product/powerwave-3000-p1.