Makita UK has announced its new October collection, adding further cordless machines to its expanding LXT battery platform. A new 18V garden sprayer, impact wrench and inflator join the line-up of over 275 solutions within the LXT range.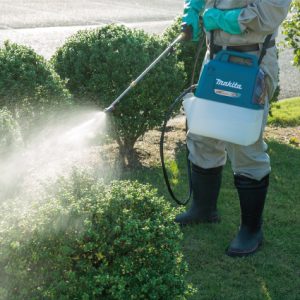 DUS054Z GARDEN SPRAYER
Removing the effort required to pump, this lightweight 18V 5-litre sprayer delivers up to 0.45L/min, allowing for efficient spraying with comfortable paddle control. The telescopic spray wand with a rotatable H-shaped dual head design allows the user to quickly switch between mist and jet spraying modes depending on the task.
Delivering up to 8hrs runtime on a 6.0Ah battery, the clever Auto-Stop feature helps to minimise any unnecessary drain on the battery by shutting down the power when the handle isn't engaged.
The machine has been designed with user comfort in mind and includes a shoulder harness and an ergonomically optimised tank body that sits comfortably at the user's hip. Furthermore, the handle features a lock-on function to hold the trigger in place – ideal for larger jobs where continuous spraying is required.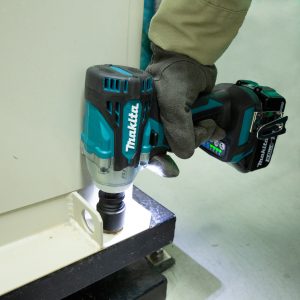 DTW302Z IMPACT WRENCH
The new 18V LXT DTW302 Brushless Impact Wrench features a fresh design on its previous counterparts. Compact, with an overall length of 138mm and 3/8-inch square driving shank, the DTW302 brushless motor provides high power with a fastening torque of up to 300Nm and maximum nut busting torque of 500Nm.
Featuring a variable speed trigger, the DTW302Z provides the user with more control, with 4-stage impact selection, enabling the user to set the appropriate torque for the application at hand. For greater control and convenience, the tool also features Forward / Reverse function, with 6 modes for customised applications.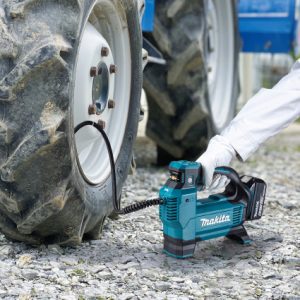 DMP181Z INFLATOR
For quick and easy inflation of automotive and machinery tyres, sporting equipment and more, the new 18V DMP181Z Inflator is powered by Makita's LXT battery technology to deliver up to 161psi and a rapid air discharge volume of 22L/min.
The tool features a digital pressure gauge, a LED light for convenient use at night and an Auto-Stop function which automatically shuts down the tool when the desired pressure is reached. The DMP181Z also offers manual decompression functionality, allowing air to be released in case of over inflation.
Speaking on the new products, Kevin Brannigan, Marketing Manager at Makita UK says: "With over 275 cordless solutions within our LXT platform, we are delighted to further expand the possibilities for professionals with these new additions. Designed with purpose-built motors, innovative battery technology and enhanced communications, all our cordless tools work together to deliver reliable power, speed and run times that provide the trade with a cordless solution for every type of application."