Octopus Energy has released the preliminary results from its first ever 'Saving Session', a new energy reduction scheme that allows households to get paid for shifting their energy usage out of peak times.
Octopus invited all of its 1.4 million electric smart meter customers to join the revolutionary new scheme, which runs from November to March 2023. Over 400,000 customers have already joined the programme, which is still accepting new sign ups.
Over 200,000 customers opted in to the first ever test session conducted between 5-6pm on 15 November. The average customer managed to reduce their energy usage by well over half (59%) of their regular usage during that time period.
Together, the group managed to reduce the UK's energy demand during the one hour period by 108MW, as much as a gas power station can generate in an hour and more than half of the 200MW flexibility requirement National Grid needed from all sources.
This demonstrates that if just one other energy company delivered the same as Octopus, consumer demand could have met all National Grid's needs for flexibility. If the program was scaled up to all electric smart meter customers in Great Britain, the resulting flexible energy load would be over 1GW, almost as much as powering up one of the UK's major coal fired power stations (but without the emissions).
Typical bill payers received well over £1 for just one hour's shift (as well as saving on their energy costs), the top 5% of participants earned an average of £4.27.
Alex Schoch, Head of Flexibility at Octopus Energy Group, comments, "Giving consumers the chance to grab a bargain is a win-win-win: cleaning up the grid, cutting costs and delivering greater energy security.
"Just like the yellow label products priced to clear in a supermarket, it doesn't need everyone to take part, but those who do get cheaper energy for themselves and drive down waste and reduce costs for everyone else too.
"Octopus are proud to have pioneered this. Our huge investment in technology and customer relationships made this possible and we expect to see other companies follow suit."
During the session, Octopus Energy customers tweeted their support and shared the many different ways they were turning down their usage: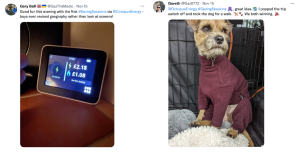 Octopus Energy smart meter customers who are yet to take part can still sign up for the scheme here.