NICEIC has wrapped up its week-long series of events to support the introduction of Amendment 2 of BS 7671:2018. Completing a 31-stop UK tour and delivering two Amendment 2 special broadcasts of their hit technical webinar series, THE WIRE NICEIC reached an impressive 5,000 contractors.
Timed to coincide with the release of Amendment 2 of BS 7671:2018 which was published on March 28th. These FREE and EXCLUSIVE CPD certified events were hosted by NICEIC technical experts and local assessors. Delivering a technical overview of the update the teams were on hand to answer questions and network with contractors.
"We are extremely encouraged by the high turn-out seen at our Amendment 2 events," says John O'Neill NICEIC's Technical Director
"We would like to thank the thousands of contractors who took the time to join us either in person or online. However you chose to receive the information, we were delighted to see so many of you invest time in your technical learning.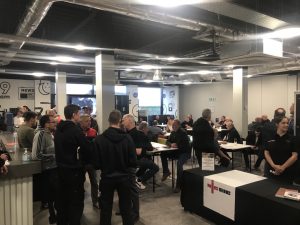 "If we missed you this week, don't worry, a recording of THE WIRE episode will be available via our on-demand service shortly."
Covering the fundamental changes brought in by the amendment, the sessions discussed the new requirement for Arc Fault Detection Devices (AFDDs), a new chapter on prosumer's low voltage electrical installations and much more.