Ovia is delighted to announce that its custom-designed mobile lighting showroom will once again be taking to the roads, following a forced hiatus over the last 17 months.
An eye-catching, state of the art, branded truck when in transit, the five-tonne unit transforms into a spacious and stylish showroom, fitted out with a comprehensive selection of Ovia lighting and lighting control products which are mounted on display panels. With room for a hospitality table and concealed storage for presentation materials and samples, the air conditioned, fully glazed unit provides an ideal space in which to host seminars and presentations and provide product training sessions for visitors.
Its schedule for the remainder of 2021 will include branch visits and product training for key trade days organised by Ovia's wholesale customers and Ovia will be welcoming enquiries from new as well as existing customers.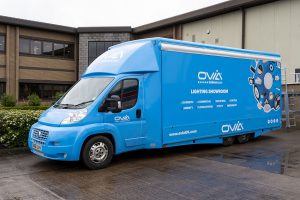 Mike Collins, Ovia sales director, comments: "We are really pleased to once again have the opportunity to make the most of our mobile showroom. It's a fantastic resource which enables us to demonstrate the breadth of our lighting products and allows us to host valuable education and training sessions. Our ongoing new product development programme means we are bringing new products out on a regular basis and the mobile showroom provides a platform to demonstrate the features and benefits that will help the contractor and ultimately drive sales through the wholesaler."
When fully opened, the floorspace covers approximately 9m x 5m – providing ample room for wall mounted displays to house products from the various Ovia lighting collections which includes domestic, commercial, industrial, utility, amenity, emergency lighting and floodlighting products, plus a range of lighting control solutions.
Designed to bring maximum flexibility, the panels are all interchangeable, making it easy to tailor the displays to meet the needs of the audience or venue.