COVID-19 has meant an ever-changing market for our customers. At HellermannTyton we pride ourselves in providing solutions to meet our customers' needs and this current situation has been no different.
At the start of the pandemic we worked with our key suppliers to produce material ranges that are resistant to bacterial growth, to provide the safest products possible.
What does that mean? 
Our product ranges including Spiral Binding, Helawrap, FCT and Grommet Strip are now available with an additive that provides the plastic with anti-bacterial properties. Lab tests have demonstrated that these products are 99.9% more likely to prevent the growth of bacteria. Specific tests were carried out on MRSA and E. Coli which are well known pathogens.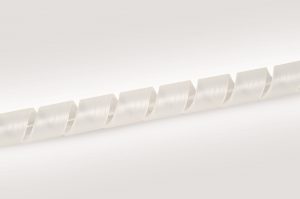 By adding this additive to our products we are able to guarantee that bacteria will not be able to survive on the product surface, this is ideal for areas that are hard to reach and clean – for example in factories, schools and hospitals where surfaces may become contaminated on a regular basis.
Anti-bacterial Spiral Binding 
Spiral Binding is a general-purpose solution for many bundling applications. It is used for organising and protecting cables and hoses. Spiral binding is available in a wide range of diameters, colours and materials. SBPEAB provides protection against bacterial activity, abrasion, chemical and UV attack.
Features and benefits
Organises and protects cables and hoses
Suitable for retro-fitting
Cables can branch out at any point
Very good protection against abrasion
Material – Polyethylene (PE) or Nylon (PA6)
Edge Protection G51NAB Grommet Strip 
Grommet Strip has a flexible 'U' section designed to line irregular shaped holes through panels or bulkheads to prevent the chafing of cables or pipes. G51NAB is manufactured from a high grade PA6 with anti-bacterial and abrasion resistance.
Features and Benefits
Very flexible
Easily and securely applied without adhesives
Provides effective, orderly-looking protection
Natural as standard (other colours available on request)
Material – Nylon (PA6)
For more information on our full product range please scan the QR code.