Rishi Sunak, MP for Richmond (Yorks) met with representatives from organisations with an interest in low carbon heating, all working together to better prepare the supply chain for the changes which are set to take place over the next few years as we transition towards a low carbon future.
The meeting was arranged and hosted by GTEC at their training centre in Rishi Sunak's constituent area in Hawes, North Yorkshire. It allowed organisations to demonstrate their efforts to simplify the journey for installers looking to enter the low carbon heating market. From Awarding Organisation (LCL Awards) who develop qualifications that could be delivered by a training provider (GTEC Training) delivering courses to installers and preparing them for assessment by a certification body (NAPIT) in order to join a certification scheme (MCS).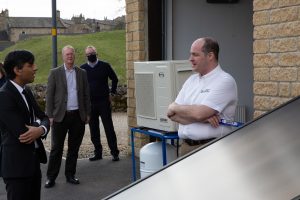 This collaboration resulted from the Renewable Heat Installer Support Scheme (RHITSS). RHITSS offers vouchers to provide up to 70% off the cost of becoming a renewable heating installer, and proved to be immensely popular with 1,000 vouchers, claimed within 10 days of the scheme opening. The visit coincided with confirmation from Midlands Energy Hub and BEIS that the RHITSS scheme has had its deadline extended to 30th September 2021. The extension was granted in recognition of the difficulties that some candidates have had in securing a place due to COVID restrictions (previously it was May 14th.)
With the Prime Minister's announcement just last week confirming the Government will bring forward the current target for reducing carbon emissions by 15 years, setting in law the requirement to cut carbon emissions by 78% compared to 1990 levels by 2035 rather than 2050- it is clear that this is an area of high importance to the Government.
Rishi Sunak, MP for Richmond (Yorks), who was delighted to be able to visit a constituent company comments: "The RHITSS scheme has been a great success; GTEC has been able to pull together many different parts of the low carbon sector to deliver this ambitious programme very quickly. It's been great to meet a local company playing their part in such an important national cause."
David Cowburn, Chief Operating Officer at NAPIT says: "I was delighted to be given the opportunity by GTEC to meet Rishi Sunak and discuss the pathway towards a zero-carbon world, and the important role installers will play in achieving this. RHITTS has been a great example of government and industry working together and further such collaboration will be needed to meet the carbon reduction ambitions, especially if the Government ambition of installing 600,000 heat pumps a year by 2028 is to be met which will require an additional 17,000 installers within the next 10 years. It was great to see how engaged Rishi Sunak was in the low carbon future narrative, and we look forward to continuing to play a collaborative role within industry to make the certification of renewable energy installers as straight forward as possible, whilst retaining high standards."