Former England and British and Irish Lions Rugby star, Austin Healey, joined the Electrical Distributors' Association's (EDA) Annual Awards Dinner to entertain guests and to present the EDA Investor in Training Awards to 10 high performing wholesalers and manufacturers. 500 guests attended the Association's Annual Dinner on Thursday 23 September 2021 at the Intercontinental on London's Park Lane.
Known as 'The Leicester Lip', and with 51 caps for his country and two European cups, Austin also entertained guests with stories from his professional career.
The EDA Investor in Training Awards celebrate leaders from the electrotechnical sector who have championed the professional development and training for their teams and businesses through the EDA Apprenticeship Service and the EDA Product Knowledge Training Modules. The awards are sponsored by the Association's partners, respectively, EDA Apprenticeships Plus and The Institution of Engineering & Technology.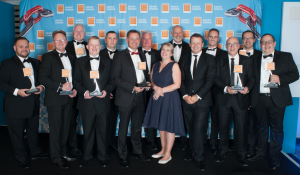 EDA President, CEF's Chris Ashworth, says "Since we last presented these awards in March 2020 so much has happened but our sector has fared better than most, and for that we are very grateful. Tonight we meet again as friends and colleagues, celebrating the extraordinary individuals who make this sector what it is today. These winners have delivered exceptional results for their businesses through the Association's Apprenticeship Service and the Product Knowledge Module Programme. This is a sector that invests in the professional development of its people – a strong message which will help each of our businesses attract the best and brightest talent."
Margaret Fitzsimons, CEO at the EDA, adds "During the pandemic training was the last thing on people's minds, but as the sector started to emerge through recovery, we have seen a surge in demand for both EDA training modules and apprenticeships.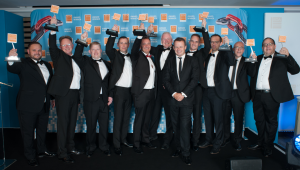 "Businesses are only as good as their people: if you've invested in training and professional development those individuals will have the skills to sustain your business through the tough times. The 8 wholesaler award winners we celebrate tonight understand that, and they have used both the EDA's Apprenticeship Service and the Product Knowledge Modules to build gold-standard teams. And this year we also have 2 manufacturers winning Awards: Steve Parry of Termination Technology and Ian Hunter of Electrium Sales. Our Affiliates are really getting the message that the EDA's apprenticeship and training services and support are as relevant and accessible to them as they are to the wholesalers."