Schneider Electric has expanded its popular Lisse range of wiring accessories to include a weatherproof range.
The Lisse weatherproof range is the newest addition providing complete IP66 protection across the entire portfolio of Lisse switches, sockets and multi-use enclosures. Manufactured from weather resistant PVC, the weatherproof range is suitable for a wide range of applications and is totally protected against dust and water.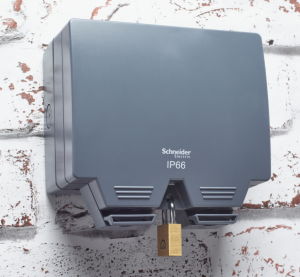 With simple installation, clever design features and IP66 ingress protection, the range can be accommodated in residential applications as well as more demanding commercial and public applications. It is ideal for providing safe and secure electrical access for jobs around the home and garden, as well as including switch modules for complete versatility. Not only does the range offer premium design at an affordable price, it works with all types of Lisse white moulded accessories for maximum performance and complete flexibility.
Nico van der Merwe, VP of Home & Distribution at Schneider Electric, says: "The new range of Lisse weatherproof accessories is compact, easy to install and optimised for security and flexibility. By implementing IP66 ingress protection across the new range, we are able to provide peace of mind to homeowners and also commercial applications, with long term durability now guaranteed. This new range puts total control in the hands of the electrician – allowing them to easily and efficiently install the products, leaving the occupier with a safe and secure installation."
Installation and design
The simple, safe and easy to install accessories provide electricians with additional flexibility and added peace of mind for the homeowner. Power accessories include secure locking tabs ensuring a positive fastening to maintain IP rating, which provide a visible and audible 'click' when fully secure. For completely tamperproof access, a simple hasp padlock can be used locking the hinged cover and the enclosure together.
The new Lisse weatherproof range also includes functions such as:
Optimum positioned fixings and seals – ensures speed of installation without the need for additional sealing of fixing screws to maintain IP66
Multi-use enclosures – enabling all the features and qualities of Lisse white moulded accessories for maximum performance and ease of installation
Flexible cable entry seal – all socket outlets incorporate additional space for 13A plugs when fitted with flex strain relief, as well as flexible 'gel' seals ensuring a watertight seal around the flex
Pre-scored 20mm cut outs – ample cut outs positioned on all sides of the enclosures with the additional feature to adapt to 25mm