Stiebel Eltron has installed its new latest WPL-25 heat pump system at a five-bedroom property in Boston, Lincolnshire to provide a new renewable heating system and bring the home up to modern sustainability standards.
Installers UK Eco Energy retrofitted the renewable system at the home, replacing the existing legacy heating system that was powered by oil. It's estimated that the heat pump will save the homeowners £400 a year by removing the need for oil, while also helping them to earn around £10,700 from the Renewable Heat Incentive.
The WPL-25 is the ideal option for residential projects as it's small and quiet. It's tailored for quick installation, and high output levels mean it's capable of flow temperatures of up to +65°C.
It also offers owners the ability to use Stiebel Eltron's internet service gateway, which allows residents and engineers to monitor operation and ensures any performance issues are spotted and serviced before they impact the comfort of those in the property.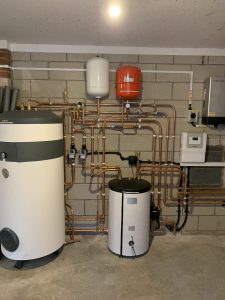 Owners of the Lincolnshire home, Mr and Mrs K says: "It was important to us that we bring the heating system in our home up to modern energy standards, which is why we turned to heat pumps as an option. Initially we had concerns over potential noise issues, however after seeing Stiebel Eltron's products in use we were reassured by their low sound levels.
"We are extremely impressed by the quality of the equipment, and the service that was offered by UK Eco Energy during the installation process. The quality of the heat pump has exceeded our expectations – we're pleased that we now have a totally renewable heating system throughout the home."
Mark McManus, managing director of Stiebel Eltron UK, comments: "Heat pumps offer an outstanding renewable heating option for those looking to upgrade the environmental credentials and heating performance of their home. This project is a brilliant example of their application in a retrofit scenario, which is a key market if we're to effectively futureproof our existing built environment.
"We're seeing an increase in their popularity particularly as action against climate change becomes more urgent. This is an encouraging development as they form a vital part of creating sustainable homes in the future. Their use of electricity as a power source means it's possible to leverage energy that is generated from renewable sources, a vast improvement on gas and oil heating systems."