A charity that aims to empower students in Africa with quality IT school resources, has received a donation of over 300 computer items from IronmongeryDirect and its sister company, ElectricalDirect.
The two companies, part of the Mantuan Group, have donated over 300 items of IT equipment to the Turing Trust, a charity that reuses and refurbishes tablets, phones and computers to be deployed to schools in Africa. The equipment donated by the Essex based ironmongery and electrical suppliers included computers, laptops, monitor screens and cabling, enabling 1,944 students to gain vital access to digital resources and learn vital IT skills. What's more, the donation offsets 30 tonnes of CO2 emissions, which is the equivalent of planting 75 trees, or offsetting the annual carbon footprints of three Britons.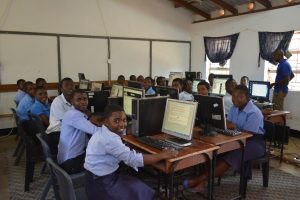 On the company's donation, Dominick Sandford, Managing Director at IronmongeryDirect and ElectricalDirect says: "As part of our ongoing commitment to charity and worthwhile causes, we are delighted to support the Turing Trust with this donation. By providing training opportunities and skills development both in Africa and the UK, its operation also reduces waste and supports a more sustainable and environmentally friendly society, and we are pleased that we can help make a difference."
James Turing, Founder & CEO of the Turing Trust comments: "We are immensely grateful to all the team at IronmongeryDirect and ElectricalDirect for their donation, which will empower almost two thousand students with technology enabled education in Africa. The embodied energy savings created from this donation is also enough to power seven UK homes for a year and this donation helps to demonstrate what can be achieved through a circular economy approach to reusing business IT equipment."
The Turing Trust was set up in 2009 in honour of Alan Turing by his family and seeks to provide quality IT resources and training to schools in sub-Saharan Africa. From its Edinburgh workshop, the charity refurbishes and ships IT equipment and educational software to help bridge the digital divide.