The new KNIPEX NexStrip is a must-have multi-tool for all electricians. This versatile tool cuts, strips and crimps – three crucial applications all at the same time. It isolates flexible and solid conductors from 0.03 to 10mm² with automatic adaptation to the cable cross-sections; it self-adjusts wire end sleeves between 0.25 to 4mm²/2 x 2.5mm²; and cuts flexible conductors up to 10mm². The KNIPEX NexStrip is perfect for domestic installations and helps save valuable time.
As stripping pliers, the KNIPEX NexStrip works precisely, automatically adapting to each cable diameter, ensuring consistent stripping lengths thanks to the adjustable length stop, making it ideal for repetitive work. The fine adjustment enables reliable stripping of flexible and solid conductors between 0.03-10mm² even under special operating conditions, such as special insulating materials or extreme temperatures.
The KNIPEX NexStrip is also the perfect tool for crimping. The ratchet crimping mechanism guarantees the exact crimping pressure so you can expect a consistently high crimp quality. It offers fast and even square crimping for individual wire ferrules in accordance with DIN 46228 Parts 1 and 4. It is self-adjusting between 0.25-4mm²/2 x 2.5mm² and allows for quick crimping between different sizes.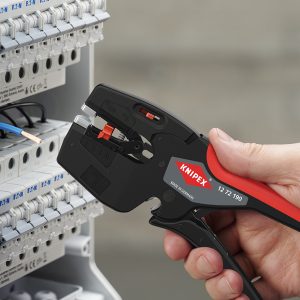 As a cutting tool, the KNIPEX NexStrip separates flexible conductors up to 10mm² safely and reliably. The non-slip and ergonomic two-component handles are comfortable to use.
Made of glass fibre reinforced plastic, the KNIPEX NexStrip is a durable and robust all-rounder ideal for electricians working in domestic installations or wiring electronic devices such as programmable logic controllers.