As part of HM Treasury's 'Treasury Connect' sessions, the Chancellor met with employees to discuss the cost of living and the support package announced by the government at the end of May to combat rising energy prices in the UK.
On arrival at the manufacturing plant located near the city of Durham, the Chancellor of the Exchequer was greeted by Vice-President of the Thorn Lighting brand, Saurabh Pandhi, and the facility's Operations Director, Peter Arthy. Before starting the open forum session, the Chancellor was introduced to the company which was founded by Sir Jules Thorn in 1928 and which manufactures efficient, high-quality lighting solutions for indoor and outdoor applications, including education, health and care, office, retail, urban life, architecture, sport, road and transport and tunnel projects.
When joined by employees, the Chancellor responded to a range of questions, including investment plans for manufacturing businesses within northeast England, caps for gas and electricity costs and support for carers.
Local Member of Parliament, Dehenna Davison, also attended the session and joined a tour of the facility. A major employer in the county Durham area, there are over 750 employees across the site, which is also home to Thorn's sister brand Tridonic, making the company an integral part of the surrounding community. On the shop floor, which currently produces between 5,000 and 7,000 luminaires per day, the Chancellor spoke to skilled production operatives who explained the build processes and the technologies available within Thorn's luminaires, including those that are recognised by the International Dark-Sky Association as dark-sky friendly.
On the walkabout, Peter Arthy drew attention to the site's initiatives to improve sustainability. Through recycling and reusing water in manufacturing processes, a 50% reduction in water consumption has been achieved in the past year, while energy consumption is being driven down year on year, achieved by continuous monitoring and metering of machinery and energy management systems.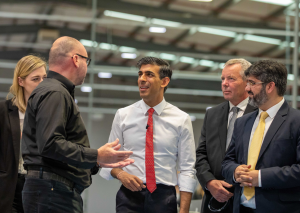 Peter says, "For me personally, the Chancellor's visit was a fantastic opportunity to display the improvements that have been made at the Spennymoor factory, and an opportunity to showcase the really wonderful staff that we have here along with their enthusiasm and their dedication which was obvious through the questions they asked the Chancellor, and on the tour."
Saurabh adds, "One of the key highlights of the visit was being able to show the Chancellor first-hand where we produce our fixtures, allowing him to get hands-on with the products that are sold to all areas of the UK and exported across the globe. Thorn is a proud member of the Zumtobel Group, one of the largest lighting companies in the world alongside sister brands Tridonic and Zumtobel Lighting, so it was great to put the Spennymoor facility into context on a global scale. For us, it was insightful to understand what the UK Government is doing to support businesses and help them grow and how we can use that to better serve our communities, customers and partners."