When SELECT required an upgrade for the lighting in its headquarters, its former president and experienced electrical contractor John Noble invited Thorn Lighting to provide their luminaires for an energy efficient solution.
Working on a brief to modernise the spaces while taking into consideration daylight levels, Thorn supplied a variety of luminaires in the entrance foyer, main office, car park and subsidiary offices.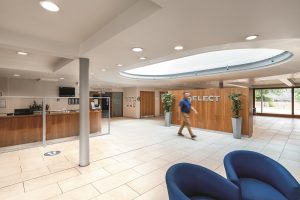 The solution
The main challenge for the lighting design at The Walled Garden in Penicuik, outside Edinburgh, was to provide a new dimmable solution in a continuous row system without introducing any additional wiring. The chosen solution was Thorn's IQ Wave suspended continuous luminaires with integral through wiring, dimming gear and mini sensors.
IQ Wave is an intelligent lighting system with integral controls that responds to presence/absence detection and the amount of daylight in the space. No new wiring points were required for the lighting design as all the existing points were utilised by John and his team, who carried out the work.
IQ Wave suspended LED luminaires have provided the optimum solution in the main office by offering a seamless lighting solution with clean, flowing lines. Incorporating Thorn's patented MV Tech Optic the luminaire allows for excellent uniform light distribution and glare control UGR<19 and is available in 3000K/4000K colour temperature, CRI>80, with a lifetime of 50,000 hours.
Up to 40% energy saving is achieved with the MWS Microwave Sensor for presence detection and with the HFSX Dual Sensor up to 70 % energy saving is achieved, while the integrated sensors allow flexible lighting control.
Other successful spaces
Thorn's ability to achieve an optimum lighting solution in the main office also allowed for a full package offering for the other spaces at SELECT HQ.
To create a consistent look throughout the building, IQ Wave recessed LED luminaires were installed in the back-office spaces, focusing on intelligent controls, optics, design and installation.
The IQ Wave recessed luminaire incorporates Thorn's unique MV-Tech light optic and has a highly reflective back, creating a smooth, homogenous illuminance with no visible LED.
Lightweight Chalice 200 LED2000 downlights now illuminate the main entrance foyer at SELECT HQ. With an IP44 rating as standard, this delivers an efficacy of >100Llm/W and a low maintenance lifetime of 50,000 hours.
Thorn's R2L2 road lanterns also now illuminate the car park at The Walled Garden. R2L2 is at the forefront of LED technology and offers excellent lighting performance. The super-efficient solution achieves up to 153lm/W.
R2L2 also provides maximum energy savings.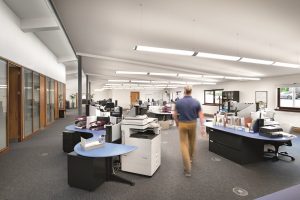 The SELECT verdict
Electrical contractor John Noble, whose team carried out the work, says: "The Thorn luminaires were selected for their high quality and advanced functionality, and were simple to install in all locations at The Walled Garden."
John McGhee, SELECT's Director of Finance & Resources, adds: "Thorn's luminaires have delivered great lighting quality and high user comfort and have helped to create an improved working environment at The Walled Garden. We are delighted with the results."