Toolstation has launched its latest catalogue in stores and online, offering a wide array of new products, brands, and offers at amazing value, aiming to help customers save money on trade-quality products during a challenging period of rising costs.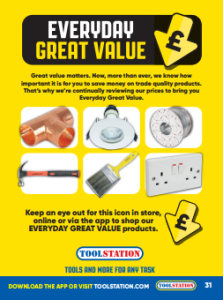 Online, on the app and in store, Toolstation will be supporting customers by showcasing its Everyday Great Value range, which launched in August. The range aims to highlight the best value products currently on the market across various trade and DIY sectors, from plumbing fittings, electrical accessories, painting and decorating products, construction gear and more, making sure no customer is left behind.
The value range will play an important role over autumn and winter, as customers face a challenging few months of rising costs, including energy prices. As the preparation for colder days and darker evenings begins, the catalogue intends to help Toolstation customers find the necessary products to help cut down energy costs.
Customers will be able to select from a wide array of offers on heating and lighting products that are currently the best value on the market, including up to 25% off central heating controls, £40 off smart home accessories, and 25% off dimmable lighting.
The new catalogue also offers support to tradespeople preparing to face the harsh winter weather with a selection of great value prices on items they need the most every day, including savings on waterproof work gear, weatherproof toolboxes, power tools and more.
On top of some great deals, Trade Account customers will also get a further 5% discount on every purchased product, with no minimum spend. Signing up to a Trade Account offers customers added support with more efficient financial management, up to 60 days interest-free credit, flexible credit limits and online account management. Customers can apply online or via the app.
Matt Nourse, Commercial Director at Toolstation, comments, "Now, more than ever, we know how important it is for our customers to save money on products they use frequently. That's why we're continually reviewing our prices to bring them great value within our range. With the launch of the new catalogue, we hope to help our customers save money on trade-quality products by giving them easier access to great value every day essentials."