Toolstation has completed its latest project with the Volunteer It Yourself (VIY) social enterprise, helping fund the repurposing of vacant units in Redditch town centre into a Youth Hub.
Wise Youth Centre officially opened its doors to members of the community on August 15th. The renovation project, which began on July 18th, and was delivered in partnership with youth services provider Young Solutions and North Worcestershire Community Safety Partnership, took 14 days to complete and was taken on by 17 volunteers from youth support organisations in the local area, including:
YMCA Redditch
Bromsgrove District Council
UP Foundation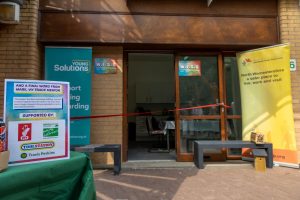 Volunteers were challenged with converting two existing units into one. The indoor space has been repainted and refurbished with a new kitchen and storage facilities for future communal events and classes, whilst the outdoor space has been renovated with outdoor seating and will host regular sporting activities. The Youth Hub will also feature a kitchen area for young people to learn cookery and provide free meals to people participating in sporting activities.
By completing the construction project, 12 Level 3 City and Guilds accreditations were awarded in carpentry, health and safety and painting and decorating. The City and Guilds accreditations, skills training, and mentoring of the volunteers was funded by Toolstation, with match-funding from Sport England and materials donated from local branches of Travis Perkins and a Benchmarx kitchen.
The initiative is helping more young people learn trade skills and to consider a career in the construction and building industry.
The VIY programme combines DIY with volunteering and challenges young people to help repair and refurbish community facilities while learning vocational trade skills on the job, helping them to become more employable in the construction sector.
The construction of a new Youth Hub in Redditch is the sixth VIY project which Toolstation has helped to fund, with previous projects including the construction of a communal space in Wembdon, the creation of an outdoor social and exercise space for Coventrians RFC in Coventry, the rejuvenation of a community centre in New Malden and the refurbishment of Southbrook community centre in Daventry.
Toolstation plans on helping to fund further VIY projects throughout the year and aims to help over 100 young people gain qualifications and consider a career in the trade.
Lesa Stanton, PR and Charity Manager at Toolstation, says: "We're delighted to continue our support of the VIY team by helping refurbish a fantastic community space at the Youth Hub in Redditch. This project will encourage young people to develop confidence and learn practical trade and building skills, helping them to earn a qualification."
Tim Reading, CEO and co-Founder of VIY says: "This is a prime example of a VIY project where young people from the local area are not only learning hands-on trade and work-readiness skills, but transforming a safe space to call their own that they'll use and benefit from. We're proud to be back in one of our key hub regions, transforming communities here in the West Midlands."
Luke Maguire, Enhanced Youth Support Officer for Young Solutions (Redditch) says "I can't praise the VIY mentors enough. They were able to generate a relationship with these people within three days and help contribute towards the ambitions of the young people we work with, helping them want to work, learn and grow, which usually needs weeks or months to make inroads.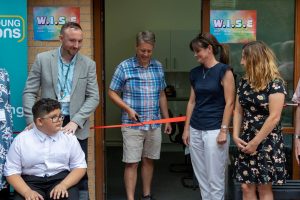 "One key example for me was a young man who had recently gone through substance misuse and alcohol addiction and looked unlikely to complete our course, then came in and said, 'I decided not to get wrecked last night, I wanted to come in today fresh and not get buzzed out.'
By day three, this young man had actively decided against taking a substance the night before and he made a decision to go down path A and not B, all because he wanted to come in, complete his work and take ownership of what he was tasked with that day. This project potentially influenced a young man to make a decision that could have saved his life. That's the true impact VIY can make."