DB Schenker Italia has developed a new multifunctional building for its Verona facility. Located in the Interporto area, the new logistics hub covers approximately 40,000 m2, connecting more than 20 destinations, including Germany, Austria, and France.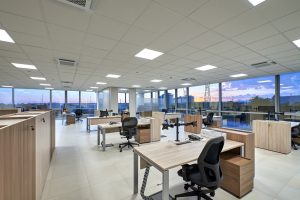 Constructed in just ten months by Engineering 2K Spa, the site consists of a 2,100 m2 office and a wooden warehouse with 61 equipped loading bays covering an area of approximately 7,500 m2. The site includes over 100 parking spaces for cars, trucks, and cabs.
Its configuration allows free movement without obstacles, thus enabling and optimising cross-docking activities for import and export operations.
The new logistics hub has been designed with sustainability in mind. A rainwater recovery system is functional for the toilets and the irrigation of green areas, thus avoiding the waste of precious resources. The structure is also equipped with solar panels.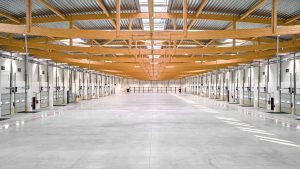 TRILUX designed the new facility's LED lighting system to ensure maximum energy savings. The system, which is fully managed, activates lighting in areas used by employees only when necessary. The new building has all the features to achieve a 'VERY GOOD' certification according to the BREEAM rating.
"The construction of the new hub in Verona has been a significant project. It is exciting to see it finally completed," says Francesca Tommasini, Manager of the Verona branch. "The facility was designed with great precision and much attention to detail for both the warehouse and the offices. The idea was to provide a pleasant and environmentally friendly environment for our employees."
Installed solutions
As the sole supplier, TRILUX developed a lighting proposal that offered standard and custom solutions that complement each other perfectly.
The 24,000-lumen dimmable JOVIE LED illuminates the outdoor areas and parking lots. Thanks to Multi Lens (MLTIQ) and Constant Light Output (CLO) technologies, it was possible to adapt JOVIE LED to the project specifications, providing a luminaire in the Smart Lighting Ready variant with Zhaga interfaces, ready to be integrated into the lighting management system.
The main facade of the building has been illuminated with three 4200 lumens FACIELLA LED projectors, equipped with roto symmetrical optics specifically designed for the lighting of buildings. The perimeter area of the logistics building has been equipped with 12,000-lumen Combial LED projectors.
The external covered areas for the loading bays are illuminated with 2300 lumens OLEVEON FIT LEDs. Furthermore, the same solution was used in different power ratings to light some internal logistics areas.