Ansell Lighting has upgraded its Guardian Emergency Bulkhead, incorporating a new design and improved installation features.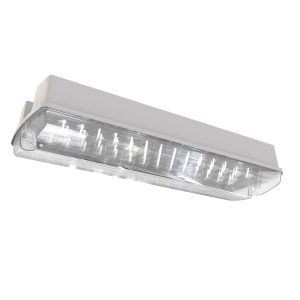 Providing up to an 18m viewing distance when illuminated, the new luminaire is an effective emergency light. Supplied with self-adhesive legend, it is self-tested as standard and comes pre-programmed to automatically initiate routine statutory-required testing. Eliminating the requirement for manual testing, it provides convenient and accurate maintenance, ensuring building compliance.
Easy to mount on walls and ceilings, improvements to the design of the Guardian Emergency Bulkhead mean that the quick-release, push-fit terminal is now attached to the base of the product, allowing the LED to have a plug and play feature. It also features 20mm side, end and rear cable entries for a quick and easy install.
The battery in the Guardian Emergency Bulkhead has also been upgraded to a lithium-ion phosphate battery, providing many additional benefits. From monitoring against short circuit, over-charging and mechanical damage, the lithium battery also has a lower parasitic load which reduces power consumption and therefore leads to lower costs and a reduced carbon footprint. The luminaire also comes with a five-year warranty as standard and has an L70 50,000-hour lifetime.
Mark Abbott, Managing Director at Ansell Lighting says, "The guardian bulkhead has been a popular product in our lighting range for some time. Functional and easy to install, it is used widely in applications of all types, so developing an emergency, lithium powered version, was the next natural progression."