Offering huge versatility, Vasco is the latest addition to Ansell Lighting's commercial lighting range.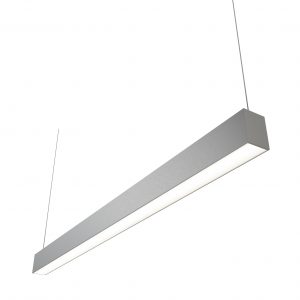 A bi-directional suspended linear pendant, it has been produced in both 1200mm and 1500mm lengths, but can be adapted to create longer or different shaped pendants when installed using innovative continuous linking or corner connectors.
Sleek and modern in design, the rectangular luminaire has been constructed from a robust aluminium and is available in both black and aluminium finishes to meet market demand. Bi-directional, it delivers a 30% upward to 70% downward light ratio as standard but comes with the added option of directional light selection if required.
Suitable for a range of applications including educational, commercial and retail settings, Vasco is also CCT selectable, enabling users to set colour temperatures between 3000k, 4000k and 6000k and is dimmable as standard.
Easy to install, Vasco has an integral driver and features adjustable suspension points. It is pre-wired with a 1.5m cable length, giving plenty of scope for individual hanging heights.
Mark Abbott, Managing Director at Ansell Lighting says: "We're really excited about the launch of Vasco and cannot wait to hear what our customers think of it. It looks great when installed as an individual fitting, but also gives installers the versatility of creating continuous strips of lighting in large spaces or creating shaped pendants depending on project requirements.
"Aside from its design benefits, Vasco is also a highly functional luminaire, offering users full control over practical lighting settings such as colour temperature and lighting direction."