British ventilation manufacturer Vent-Axia is delighted to announce that it has been named as a finalist in the prestigious HVR Awards 2021. The company's COVID-19 Support Campaign has been shortlisted for the 'COVID-19 Innovation Award'. As the nation locked down, Vent-Axia moved swiftly to inform and support both new and existing customers to improve public health and help in the national response against COVID-19. Then as the pandemic evolved with the recognition of airborne transmission of the virus, effective ventilation became even more vital with Vent-Axia providing expert advice to its customers to help make their buildings healthier and safer.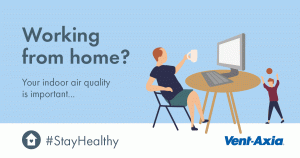 The COVID-19 Innovation Award looks for companies who have taken the fight against COVID-19 to new heights through the introduction of a product, service or initiative aimed at creating safe, virus free spaces for workers, students or public servants. This year's HVR Awards' annual celebration of industry excellence will take place on Thursday 7 October 2021. Championing excellence in the heating and ventilating industry, the award winners will be announced at a virtual awards ceremony.
"We are delighted to be recognised at these prestigious awards for our hard work throughout the pandemic supporting the industry and communicating the essential role of ventilation in mitigating virus transmission", said Lena Hebestreit, Marketing Manager at Vent-Axia. "We're committed to improving public health by improving indoor air quality (IAQ) through ventilation. With the pandemic, we focused our efforts on how we could help in the national response against COVID-19 and so we set out a three-tier plan of critical supply, critical communication and critical expert advice. We were delighted to be able to promptly supply key projects, such as COVID field hospitals, with ventilation equipment. We're also really proud to have been able to help educate and inform people, both at home and in the workplace, on the importance of ventilation in the fight against COVID-19."
Vent-Axia is committed to improving public health by improving IAQ through ventilation. The company demonstrated innovation in its field by pivoting its business and adapting to the challenges of COVID-19 and the pandemic. As market-leader it was essential for the company to use its expertise to help with the pandemic. The recently published "Infection Resilient Environments" report, commissioned by the Government's Chief Scientific Advisor, Sir Patrick Vallance, describes an urgent need to monitor and improve the ventilation in public buildings as a key element in the fight against COVID-19.
Critical supply
As part of helping with the national response against COVID-19 Vent-Axia supplied fans to COVID-19 hospital wards and field hospitals to provide good levels of ventilation, essential in such environments due to airborne transmission of the virus. Sites included the flagship NHS Nightingale hospital in London, Kent and Canterbury NHS Trust's COVID-19 wards, and the Rainbow field hospitals at Bangor University and Deeside Leisure Centre, among others.
Critical communication
Vent-Axia's #StayHealthy social media campaign has been providing guidance on improving IAQ and creating a healthy environment while working from home. In addition, Vent-Axia produced a useful guide 'The Effect of Ventilation on COVID-19' and companion webpage which bring together guidance and information on using ventilation to reduce virus transmission and is relevant to a wide range of sectors. Alongside these activities, Vent-Axia also provided critical communications by issuing press releases commenting and sharing the latest Government and industry guidance on the virus, while also adding its own ventilation expertise. The company led the way in these activities, dominating the share of voice on communications and providing expert advice.
Critical expert advice
Following the Government's COVID-19 Return to Work Recovery Strategy, Vent-Axia's expert ventilation advice helped businesses prepare for a return to work. Whilst the Government Strategy gave overarching advice there was little detail for building owners to follow on ventilation, so Vent-Axia provided this. Vent-Axia ran an information campaign specifically targeting the pubs and bars sector. The campaign reached an audience of nearly one million, helping ensure Vent-Axia could advise as many pubs as possible about how to ventilate during the pandemic, helping them reopen their businesses whilst keeping staff and customers safe by helping reduce virus transmission. The dental sector was also particularly affected by COVID as many procedures create aerosols, which carry a high risk of virus transmission. Vent-Axia therefore ran an information campaign for the sector explaining how ventilation is essential to help keep staff and patients safe and reduce fallow time allowing more patients to be seen.
In October 2020, Vent-Axia's COVID-19 Support Campaign was recognised as the British Chamber of Commerce named the company a 'UK Business Hero' as part of the Chamber's campaign to recognise the incredible work UK businesses were undertaking, in the most challenging of years. The company was awarded this prestigious accolade for its valuable work during the pandemic.
As the pandemic has developed with the recognition of airborne transmission of the virus, effective ventilation has become vital. Vent-Axia's 'COVID-19 Support Campaign' has helped in the fight against COVID-19 by supplying critical projects; sharing vital ventilation guidance and information; plus offering essential expert advice to businesses.