An LED lighting firm has bolstered its reputation in the Family Entertainment Centre industry following a raft of project wins across the world.
And the news follows a period in which many facilities in the sector have been renovating their venues ahead of lockdown measures easing.
Leicestershire's UK based Ventola Projects has been in hot demand during the past twelve months, as entertainment venues enlist the lighting expert to modernise their facilities in COVID-conscious times.
And now, with the next set of lockdown measures set to be eased this month in the UK, and similar procedures taking place across the world, the lighting specialist is set to hand venue operators a cost-efficient, timely and modern entertainment offering to entice customers back.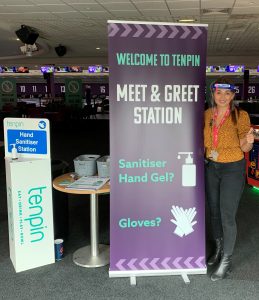 Playing its part in multi-million pound refurbishment projects, Ventola, which has distribution models set up in the UK, US and Middle East, has recently secured wins with Bowl Incline, an FEC remodel project near Lake Tahoe (USA), as well as securing a contract to supply LED lighting to a number of FEC venues in Saudi Arabia, later this year.
"This has been a tough time for venue operators," explains Ventola Projects founder Mick Ventola.
"Not only have they had to contend with months behind closed doors, but also, they know customers will be looking for something fresh, exciting and modern when they reopen. Simply reopening your facilities as they were won't cut it in a market where competition will be fiercely contested.
"I'm delighted that we've been able support in some way, providing economically sound and attractive lighting features that will help the industry get back on its feet."
Ventola's specialist VAvR lighting is a multi-function LED system that can switch from general white to colour changing mood lighting and glow effects. Computer controlled and low voltage, they save venues such as entertainment complexes, leisure parks and bar operators time and money.
In the UK, the business enjoys a fruitful relationship with Ten Entertainment Group, the parent brand of Tenpin, with Ventola installing his signature system at the operator's Manchester Printworks and Acton venues towards the end of last year.
And now, the Leicestershire firm is on a sweep of Tenpin outlets across the country, helping to ensure lighting operations are ready for the proposed lockdown easing opening date of May 17th.
"Upgrades and venue facelifts are necessity in this market," adds Ten Entertainment Group CEO Graham Blackwell.
"To this end, we've been delighted to have Ventola onboard, whose products help to distinctly modernise the entertainment experience and will excite our customers upon their return."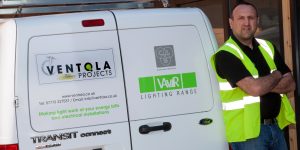 Ventola, a Midlands Engine Export Champion for 2021, completely reengineered his VAvR system last March, delivering efficiency tweaks and less impact on the environment compared to traditional older lighting products.
He also introduced an experiential projection system, which overlays in-game advertisements and exciting mini games into the bowling experience, helping to peak operator and guest interest in competitive times.