The LED Specialist provides an overview of the top ten trends it expects to see in the lighting industry this coming year.
1. The supply chain will change
The client-specifier-manufacturer-wholesaler-contractor supply chain used to be understood by everybody. But with FMs buying from Amazon, and margin-chasing contractors bullying manufacturers for rebates, the supply chain is getting twisted out of shape.
2. Smart Lighting will evolve
With the emergence of LiFi and smart home automation in 2018, this is going to really generate pace in 2019 as more comes onto the market in a variety of technologies including Bluetooth mesh, Gooee, Zigbee and RF frequency technology. The LED Specialist will be expanding its range in 2019, and is encouraging readers to 'watch this space' to ensure that you can purchase the most reliable smart technology with expert support.
3. Bluetooth Mesh will gain traction
Bluetooth is the new big beast in the lighting controls world, and its mesh technology brings simple wireless control to large installations. The familiarity of Bluetooth, the marketing muscle behind the brand and the open protocol nature of the technology will mean its entry into mainstream lighting is a smooth one.
4. Smart hubs will be cut out
The tangle of twinkling 'smart hubs' and 'intelligent bridges' you need to get your lamps connected to the internet will become a thing of the past. Led by GE's release of its C by GE light bulbs and C-Start switches this year, lighting will increasingly connect directly to Alexa, Google Assistant, Apple's HomeKit and even Siri.
5. Consolidation will accelerate
After the companies jumped a few pesky regulatory hurdles this month, iGuzzini will join the Fagerhult Group as the jewel in the crown of its recent acquisitions. While it's certainly one of the most eye-catching takeovers in the industry, it won't be the last. Driven by falling luminaire prices, consolidation will accelerate this year.
We have already seen the emergence of LEDVance from Osram over the last couple of years, and they will be launching further step away products later in 2019. The product portfolio of LEDVANCE covers traditional lighting, modern LED lamps and standardised, over-the-counter (OTC) luminaires, as well as connected and intelligent lighting solutions for smart homes and smart buildings.
Similarly, Philips Lighting is now Signify. Signify will continue to use the Philips brand for its products under the existing licensing agreement with Royal Philips. The company expects the name change to be implemented in all the countries where it is active by the beginning of 2019.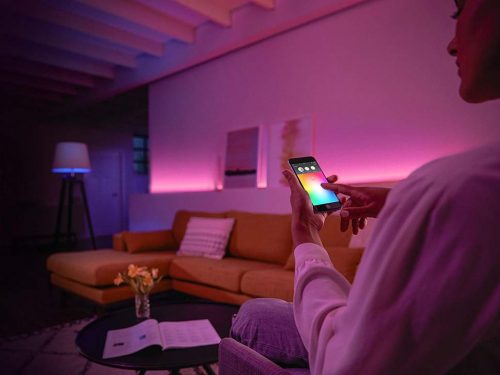 6. VR will arrive as a design tool
Virtual reality games may have enlivened your Christmas break, but expect 2019 to be the year that they have a serious impact in lighting design. The big architectural practices are already using the tool to get clients excited and Signify – formerly Philips – is investing heavily in the technology as a design and marketing tool.
7. Visual comfort will move up the agenda
The right to experience artificial lighting without nasties such as glare and flicker has taken a back seat in recent years as we've embraced the stunning energy saving possibilities of LEDs. But expect visual comfort to make a comeback with increasing demand for warm colour temperatures and high CRIs.
8. Self-learning control will arrive
Led by the stunning success of Nest's digital thermostats which learn about a user's habits over time and anticipate changes, intuitive control will begin to arrive in the lighting world. Helvar is first out of the blocks with its Active+ system, but a flurry of patent applications in recent months show entrepreneurs are betting it's the next big thing in lighting.
9. 1970s design will return
It is very hard to walk past a set of restaurants now without seeing a filament giving its warm glow of light. Many are now adopting this technology as it gives a warm ambiance of light and will be switching to LED alternative as a cost effective measure. The feminine palette of chalky pinks, brass and even flamingos is so over, the interior fashionistas tell us. The big trend in interiors is a return to the 1970s, but this time, with better materiality and softer colours. Expect product designers to blow the dust off Concord and iGuzzini catalogues from the era in the search for inspiration. Keep an eye out for the Plumen 003 which gives a warm ambient glow from the side but has the genius innovation below, where it offers a spot of a brighter more functional colour temperature, perfect for reading a book under or eating under.
10. Modular design will spread
LED luminaire makers can't believe their luck. They've got away with integral products where extracting a failed driver or light source is harder than getting compensation from Ryanair. But European chiefs are on their tail. Expect Eco Design legislation to tighten and put pressure on manufacturers to have deconstructable luminaires.
The LED Specialist is looking forward to 2019 being a year of innovation in the lighting industry.