Makita UK has expanded its XGT 40VMax range of machines with the launch of the DK0014G 2-Piece Combo Kit, DK0172G XGT 2-Piece Combo Kit, KT001G Kettle, KP001G Planer, HS011G Circular Saw and VC005GL, VC002GL and VC004GL Dust Extractors.
DK0014G and DK0172G XGT 40VMax 2-Piece Combo Kits
A must have for any tradesperson, the DK0014G and DK0172G combo kits both feature two of Makita's most popular professional cordless power tools in a convenient storage solution. The DK0014G includes the TD001GZ XGT 40VMax Impact Driver and HP001GZ XGT 40VMax Combi Drill. The DK0172G includes the TD001GZ XGT 40VMax Impact Driver and HP002GZ XGT 40VMax Combi Drill.
Both kits also include two 2.5Ah XGT batteries and the DC40RA Fast Charger, and everything is helpfully packed into a type 3 Makpac case for easy storage and transportation. The kits also come with the 191C10-7 ADP10 charger adaptor, so tradespeople can use the DC40RA to charge their existing LXT batteries, making it even easier to switch between tools and tasks.
With the TD001GZ close at hand tradespeople can easily remove or drive screws into harder materials – and the HP001GZ and HP002GZ make screwdriving and drilling applications a breeze.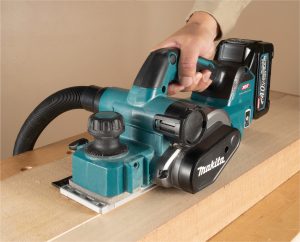 KP001G XGT 40VMax Planer
The incredibly powerful KP001G is perfect for smooth, rough and thin planing. It has a planing width of 82mm and an impressive cutting depth of 4mm, and can deliver a no-load speed of 15,000rpm for maximum efficiency and rapid cutting. With left and right chip ejection, the brushless KP001G also features a foot on the base plate to raise the base of the machine off the bench or material when not in operation, which protects the workpiece from scratches and damage.
To ensure user safety, this machine has an electric break that works to quickly stop the blade once the tool is powered down. It also includes Makita's soft start technology – and an anti-restart function to prevent accidental start up. Thanks to the inclusion of Makita's Auto-start Wireless System (AWS), the KP001G can also be wirelessly connected to a compatible dust extractor via Bluetooth, enabling the dust extractor to automatically start when the tool's trigger is engaged.
HS011G XGT 40VMax (270mm) Circular Saw
Compatible with a guide rail, this powerful circular saw is designed for precision rip cutting and delivers output that is equivalent to corded alternatives. It has a no-load speed of 3,500rpm, it bevel cuts up to 1 degrees (left) and 60 degrees (right) and has a maximum cutting capacity of 101mm at 0 degrees, 71mm at 45 degrees and 51mm at 60 degrees.
The HS011G features constant speed control that works to maintain the blade speed and ensure optimum cutting performance. To ensure user safety, this machine includes AWS technology for efficient dust extraction and includes an electric brake to quickly slow down the wheel rotation.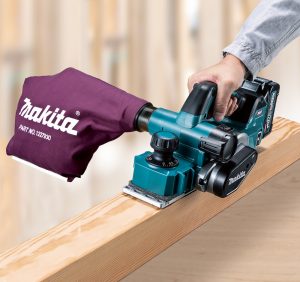 VC005GL, VC002GL and VC004GL XGT 40VMax Dust Extractors
The VC005GL, VC002GL and VC004GL Dust Extractors have been developed to offer tradespeople a powerful solution for quickly and effortlessly cleaning up at the end of the workday. All machines deliver a maximum sealed suction of 23kPa and have large tank capacities (VC005GL – 8L, VC002GL – 8L and VC004GL 15L) to prevent regular work breaks to empty the tank. The VC002GL and VC004GL also include an automatic self-cleaning filter to prevent blockages and ensure optimum efficiency.
The VC005GL can be used for dry vacuuming and the VC002GL and VC004GL are both suitable for vacuuming finer, airborne particles.
KT001G XGT 40VMax Kettle
The KT001G Kettle is the perfect jobsite companion. It can be powered by Makita's XGT 40VMax batteries or the PDC1200 portable power pack to boil water wherever you are on site. It is equipped with an anti-spill lock button to prevent accidental spills and it stops boiling automatically when the kettle or power supply stand is lifted to ensure safety. It has also been designed to provide high heat retention, while keeping the kettle surface cool.
Thanks to the carry handle on the power supply stand, the KT001G is easy to transport around site.
Kevin Brannigan, Marketing Manager at Makita says: "Our latest 40VMax products join the wider, expanding XGT range, which now consists of over 50 models that can all be powered using the same XGT batteries. This means that professionals can effortlessly switch between tools and tasks to maximise their on-site productivity and efficiency, or even pour themselves a hot cup of tea!"