WundaSmart is a new smart heating system designed to give consumers superior control of their home central heating. Accurate, efficient controls save users money, energy and CO2 emissions, while bank-level encryption keeps data private. Even if the internet drops out on the coldest day of the year, WundaSmart will keep running and retain full accessibility, offering a completely unique alternative to the smart home heating category.
WundaSmart is the first smart heating control system from Wunda to launch to market and it already has the coveted Good Housekeeping Institute Approved accreditation. Wunda is a British company with more than 15 years of expertise in home heating. The brand pioneered energy-efficient underfloor heating and has a Trust Pilot Excellent Rating.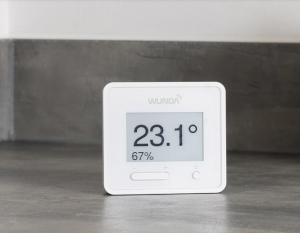 Manage your heating precisely from anywhere in the world with easy-to-tailor schedules to suit your lifestyle. Control via app, voice or stylish, simple control panels. Rooms you're using are always at the perfect temperature but you're not wasting energy heating other rooms, so bills shrink. This method, called zoning, has been shown in studies to provide energy savings of up to 37%.
Unlike some smart heating systems, WundaSmart uses wireless thermostats positioned away from the radiators, and additional temperature sensors built into the radiator heads. Together, both devices measure room temperature more accurately (within 0.2°C) as well as humidity, which when unmonitored and untreated can lead to discomfort, mould and health issues. There are two thermostat designs: a simple, tamper-proof one that can be hidden and the WundaSmart Screen Thermostat with E Ink display and heating controls.
WundaSmart uses a low energy seeker signal RF (Radio Frequency) system to link devices, rather than the more commonly used Zigbee or Z-Wave system which can lead to range issues. Wunda's RF means a longer range with no need for RF signal repeaters, better battery life and more rooms. WundaSmart supports up to 30 rooms and 50 radiators, more than any other smart heating control system. It works reliably even in large houses and period properties with thick walls.
Your data and preferences are always kept private. Usage data and settings are stored in your HubSwitch (the central control unit) rather than relying exclusively on cloud storage. Uniquely, this means that even when the WiFi goes down while you're at home, you are still able to control your system via your LAN (Local Area Network). WundaSmart stays fully functional and accessible via its hardware or using the app, allowing you to change the heating settings and schedules as normal. This is also why the system is 'snoop free'. The data is decentralised and there is no online database recording your every action.
Room temperatures are controlled and scheduled via app and can be zoned – so you can control all of downstairs, or just one single room, at once. The app is easy to use and uniquely you can set three favourite room temperatures. One tap to choose eco, normal or cosy, for example.
You can also control your heating with your voice through Amazon Alexa or Google Home. You can even use 'geo-fencing' on a room by room, user by user basis, which triggers the heating based on your smartphone location. For example, it can turn on automatically when you're nearby (you set the radius, whether that's 500m 100km). WundaSmart also modulates; adjusting and optimising the heating use depending on current conditions to keep your energy bills low. This means that when you set a heating period, WundaSmart won't necessarily need to heat for the whole period, but instead will just retain the desired temperature. If there is a solar gain (such as sunshine through the window) or any activity that naturally brings the room up to temperature (such as more people in the room) then WundaSmart will not request hot water from your boiler. It's the perfect example of nature and technology working hand in hand to be more efficient.
WundaSmart is compatible with any water-based heating system, whether you have a combi or conventional boiler or heat pump. It can control radiators, water based underfloor heating and even hot water storage tanks. For example, you could save energy while away on holiday but use the smart controls on your way home to remotely prepare a tank of hot water for a bath.
As with most other smart systems, WundaSmart installation can be carried out by a competent and DIY-savvy consumer in certain cases. However, Wunda recommend the main component – the HubSwitch – is connected to the heat source by a certified heating engineer to avoid any complications. Installation is quick and painless, typically taking less than two hours. The HubSwitch (pictured, below right) is retrofitted to the boiler controls. WundaSmart smart radiator heads work on 90% of UK radiators and fit most others with an adaptor. Then wireless smart thermostats and radiators are easy to fit by anyone and are placed throughout the house, paired with their rooms simply in the WundaSmart app.