The intuitive Wiser heating control system has been enhanced with the much-anticipated introduction of the Wiser Underfloor Heating Controller and Electrical Heat Switch, providing heating engineers with a go-to solution suitable for all types of heating configurations.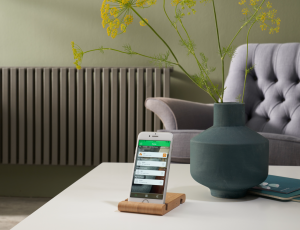 With the launch of the Wiser Underfloor Heating Controller and Electrical Heat Switch, and introduction of the new dedicated heat pump setting, Wiser can now be used with any type of heating system. These new additions are an integral part of Wiser's development into a full smart and sustainable home system and as part of this transition, the Wiser app has now been renamed Wiser Home.
Part of part of Drayton's Green Premium range, the easy-to-install Wiser Underfloor Heating Controller and Electrical Heat Switch allow homeowners to simply control both electric radiators and underfloor heating via the Wiser Home app, in addition to the standard radiators that most will still have in their homes. Via the user-friendly interface, homeowners have complete control on the entire heating system all in one place.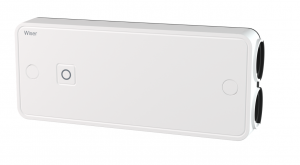 Wiser Underfloor Heating Controller
The Wiser Underfloor Heating Controller is modular in design and can be integrated into all heating systems and configurations. Not only does the controller offer both heating and cooling functions, it also offers the flexibility for zoning. Each controller has the capacity to control up to six zones, which can be operated on separate schedules when paired with a room thermostat. With the possibility to be integrated as part of an existing Wiser system or set up as part of a new installation, getting set up and connected to the Wiser Hub is a quick and easy process on the Wiser Home app. Additionally, to make installation easier than ever, the unit can be tested without being connected to the Hub and can be commissioned without Wi-Fi.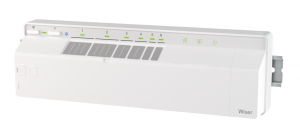 Wiser Electrical Heat Switch
The Wiser Electrical Heat Switch has a 16A relay for electrical heating and, because it is hard wired, can act as a range extender for the entire Wiser Home system. Also set up easily through the Wiser Home app, the switch is compatible with electric radiators and towel rails, electrical underfloor heating, plinth heaters and infrared panel heaters.
Remi Volpe, Managing Director at Drayton, says: "This is an incredibly exciting time for Wiser Home, as we take yet another step towards making this a full home management system that will be able to meet the needs of buildings in the future. The introduction of the Wiser Underfloor Heating Controller and Electrical Heat Switch means that not only have installers got an efficient and reliable solution for these types of jobs, but also ensures homeowners can have greater control over mixed heating systems for the highest level of efficiency.
"Additionally, the new dedicated heat pump setting on the app comes at a crucial time for the heating industry, as more heating engineers start to up-skill in fitting this renewable heat solution and customer demand rises with the launch of Government grants. As such, it was imperative that the Wiser Home system could be integrated with a heat pump solution in order for customers to reap the benefits of a more sustainable and efficient heating system."