WJ Group has continued to champion the development of innovations with the launch of three unique products: Weatherline Ultra, ClickLite Solar Road Studs, and RapidGrip.
Unveiled at Highways UK, following feedback from National Highways delegates at the WJ Innovation Day, the new innovative products will deliver a multitude of benefits, including helping to improve road user safety, reduce carbon and increase delivery efficiency.
Weatherline Ultra is the latest addition to its Weatherline range. Building on the success of the line of products, this newest road marking system offers even greater levels of performance and durability. Designed to ensure enhanced visibility in any weather thanks to its dotted profile, it achieves over 500mcd/m²/lx (> R5) and 75mcd/m²/lx (RW4) in challenging wet conditions.
Developed for longevity, Weatherline Ultra offers a guaranteed lifespan of at least five years, keeping maintenance interventions to a minimum. Further, the new system draws on the success of WJ's product range by incorporating biogenic binders to maintain low levels of embedded carbon.
The second product launched is the ClickLite Solar Road Stud. Developed in close collaboration between WJ Group and Clearview Intelligence, the new solar road stud offers unparalleled visibility to redefine road safety standards in the UK.
The ClickLite Solar Road Stud delivers up to 900m of visibility, allowing road users up to 30 seconds to adapt to any changes in a road's layout. Perfect for poorly lit areas, the ClickLite Solar Road Studs offer a tenfold increase in visibility, when compared to regular studs.
In the past, installation speed, replacement and cost have created challenges for the implementation of solar studs, however, this latest innovation has successfully tackled these issues. Thanks to their design, the studs fit into standard P09 casings through a clip insert, making them simple to install and offering robust protection. Teams can now match the installation rate of 301 road studs. More impressively, ClickLite solar road studs have reduced costs compared to traditional models, offering a remarkable return on investment for enhanced safety.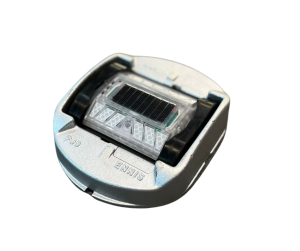 Finally, RapidGrip is a sprayable one-part application cold-applied coloured surfacing system that offers increased delivery efficiency through its spray application. Its versatility means that it can be used for places of relative safety (PRS), parking bays and pedestrian areas with it offering twice the required texture depth and offers a skid resistance value of 65SRV. Thanks to a rapid application of 37m in 30min, it reduces traffic management requirements during installation, reducing cost and disruption to the public. It has the potential to significantly ease the ongoing challenge of maintaining PRS Bays, with the ability to rejuvenate three in a single shift.