SolarEdge Technologies announces the completion of a second solar PV system for leading organic food producer, Yeo Valley Organic. The installation of a 623MWh rooftop array at its Newton Abbot manufacturing facility furthers Yeo Valley's ambition to become 50% electricity self-sufficient within the next 10 years and follows the earlier installation of a 1.13MW rooftop system at its Isleport site. Together, the PV installations are expected to cut carbon emissions by 400 tons each year.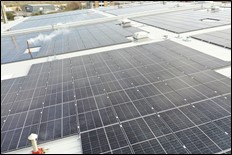 The solar projects were installed by SSWUK (Solar Southwest), which chose SolarEdge's DC-optimised inverter solution to maximise energy yield at the energy-intensive production facilities. The SolarEdge system uses Power Optimisers to increase the energy production of each module in the array by overcoming issues such as shading and soiling that can limit output in traditional string inverter systems.
Jonathan Bensted, Managing Director at SSW, says: "Ensuring the safety of its people and property was another important consideration for Yeo Valley. It was impressed by SolarEdge's suite of embedded safety feature, including its SafeDCTM function, which automatically reduces the voltage in each solar module to a touch-safe level to enable maintenance teams to access the roof safely, and arc fault detection. We're finding that many of our top-tier clients are asking for this feature for the added peace of mind it brings".
Karl Tucker, Chairman, Yeo Valley Farms, comments: "Sustainability is at the heart of everything we do at Yeo Valley. Our commitment to invest in green technologies as part of our Sustainable Development Business Plan is an important part of our vision to build a more sustainable future that involves reducing food miles, improving packaging and being 'powered by nature'."