With outdoor lighting fulfilling an increasingly aesthetic role rather than purely a safety and security one, and with the installation of water features, outdoor kitchens as well as hot tubs and swimming pools, outdoor wiring projects are growing evermore common – and complex. Great news for contractors!
Providing wireless control of multiple lighting circuits and outdoor electrical features, Hamilton Air enables the user to change the look and feel of an outdoor space at the click of a button, while Elemento IP provides access to power outdoors, safely.
Hamilton Air – creating the perfect outdoor living space.
The convenience and versatility offered by Hamilton Air, provides users with the ability to completely customise an outdoor lighting scheme to create different zones, moods and atmospherics – all operational from anywhere within the home.
The 4-Channel Wireless Switching System comprises:
A four-channel radio receiver/power unit with an IP56 rating, making it suitable for outside mounting
A battery-powered wireless switch plate
A remote-controlled key ring
Hamilton Air functional spec:
Each channel can control a maximum load of 1.25kW
The total load capacity for the controller is 4kW
Each channel can be switched on and off manually or programmed to come on from one second up to 4.5 minutes using the DIP switch
Both wireless switch plate and key fob enables on/off circuit control up to 250m
Can power sockets for light loads – up to 5A per channel or 20A total
LED compatible
Learn more about Hamilton Air here.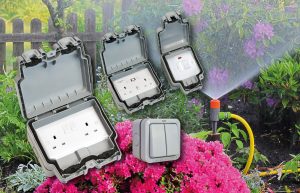 Elemento IP – provides access to power outdoors, safely
With clients increasingly using their gardens as an alfresco extension of their home, the requirement for safe power provision to the outdoors continues to grow.
From sheds and garden rooms to outdoor kitchens, entertainment decks and patio lounges, or even just to power the lawnmower, Hamilton's Elemento IP range is the ideal solution. An all-weather range of IP66 rated socket outlets, switches, connection units and lockable enclosures for the safe delivery of power outside.
Features of Elemento IP:
NEW RCD units, Retractive switch & Double Pole units
Robust, high impact UV stable housing
Multiple gland entry positions
Lockable 2-gang switch socket outlet as standard
LED compatible
Ideal for:
Garden rooms, sheds and workspaces
Outdoor kitchens
Lighting
Learn more about the range here.
Hamilton Air and Elemento IP make the perfect partners for any smart outdoor wiring project this spring.