With the multitude of materials and finishes available today, there's no getting away from the fact that in many cases, white plastic is still the perfect solution when it comes to wiring accessories. But that doesn't mean they should look, feel or function any less than their trend-setting counterparts.
Providing all the expected functionality for domestic and commercial settings, the NEW Verve range features subtly tapered top and bottom edges to create a slick, modern look that reflects the contemporary aesthetic of today's interiors.
The traditional box-fit design is reimagined for the present day with an ultra slim plate profile and white screw cap covers to create an attractive, screwless appearance.
Everything you'd expect… plus a few extras!
Verve at a glance:
Micro-Grid switch options – 1 to 6 gang.
EuroFix module plates – 1, 2 & 4 gang.
20AX switches with printed appliance identification: Cooker Hood, Dishwasher, Oven etc.
Ultra-fast dual 2.4A USB-A (4.8A Total) charge ports.
100W/400W LED rotary dimmers – 1 to 4 gang.
NEW 50A double pole 1 & 2 gang switches with neon.
NEW 45A double pole neon cooker control switch +13A neon switched socket.
Fit & Forget: *25-Year Guarantee.
*Excludes Verve Dimmers (1-Year) and Verve USBs (2-Years)
Take a look at the full Verve range here.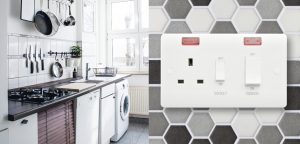 NEW to the Range: A 45A double pole cooker control switch plus an additional 13A switched socket, with rocker switches in white is a new addition to Hamilton's white plastic range – with and without a neon option.
Stay Fully Charged: The ability to charge USB smart devices has become an everyday-essential and Verve doesn't disappoint. The range includes a double switched socket with ultra-fast dual 2.4A (4.8A) USB-A charge ports, all clearly marked for the end-user.
Dimmer Switches: A Rotary 100W LED Trailing/Leading edge push on/off dimmer based upon our popular LEDIT-B100 dimmer unit. Also within the range is a Rotary Resistive Leading edge push on/off dimmer – both are available on 1 to 4-Gang plates.
Quality is a given! Verve, like all Hamilton products, are rigorously quality tested at our factory in Bristol. Hamilton's plate finishes undergo both destructive and non-destructive testing. They are put through many processes to test corrosion proof, scratch proof and the like, and come with an impressive *25-year guarantee.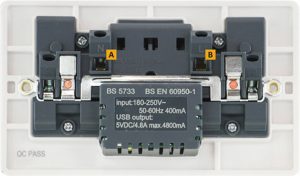 The Verve range makes for easy installation
A) Clearer terminal markings for improved identification.
B) In-line terminals for ease of installation.
A moulded recess houses the micro-grid module.
Top and bottom locating screws hold the module in position.