Vent-Axia is proud to have invested in a new bespoke training suite for its NICEIC Domestic Ventilation training course at its Crawley headquarters. The dedicated training suite offers a comfortable environment for installers to improve their knowledge and understanding of domestic ventilation systems. With the room featuring an array of working Mechanical Ventilation with Heat Recovery (MVHR) units, attendees can put into action the theoretical skills they learn on the course. All four of the installed MVHR units are fully functioning so delegates are able to complete a commissioning assessment in the training suite.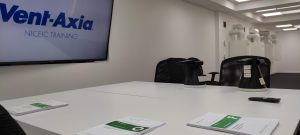 Well installed and commissioned ventilation has become more important than ever following the launch of the new Building Regulations in December 2021. The new Part L (Conservation of Fuel and Power) reduces carbon by almost a third in new build homes. Increasingly airtight homes must consider indoor air quality (IAQ) to protect the wellbeing of inhabitants and so, along with the new Part F (Means of Ventilation), the updated Regulations set out 'significant changes' to drive adoption of low carbon ventilation as an industry standard. In existing homes this includes the need to consider ventilation when energy efficiency measures are added.
Vent-Axia's NICEIC Domestic Ventilation Training Course is a two-day course aimed at anyone with an interest in installing ventilation systems, particularly experienced electricians, plumbers, ventilation installers and heating engineers looking to improve their knowledge and understanding of domestic ventilation systems. It also looks at legal requirements, why ventilation is important and the different types of ventilation available. This includes information on the updated regulations to ensure installers are aware and comply with the new changes.
The course provides the necessary skills in system design, installation, testing, commissioning, handover, servicing and fault-finding of ventilation systems in accordance with the latest National Occupational Standards and Minimum Technical Competency documents. At the end of the course, delegates will have received both theoretical and practical training, including the commissioning of a working MVHR system.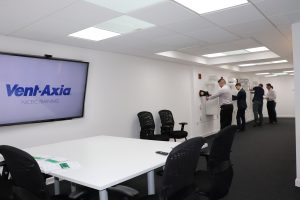 The course aims to train installers to safely and competently fit, inspect and test the common domestic ventilation systems: individual extract fans, continuous MEV systems and continuous MVHR systems. The course also aims to train installers to commission these systems once fitted and provide documentary evidence to handover to both the Building Control and the end-user.
As the Government continues to lower carbon emission targets from the built environment, the drive for greater energy efficiency will continue. As a result, MVHR systems will accelerate in growth and electricians that are able to fit them competently will be in high demand, since it will be increasingly important to prove homes are built as designed to ensure high performance.
Once candidates have completed the course and enrolled with a Competent Person Scheme, such as the one run by the NICEIC, they will be able to add value and differentiate themselves from their competitors while winning work from developers. They will also benefit from not having to notify a Building Control Body in advance of doing notifiable work, they just have to notify their work online with the Competent Person Scheme who will issue a building compliance certificate to the customer, as well as advise the relevant local authority that work has taken place. This not only saves installers time but building control charges will not be payable and installers can offer a complete service to their customers.