We all know we need to get out more. How else will we meet new people, learn new things, find new ideas and discover new products? Yet the pressure on our time is unrelenting. It can be difficult to justify time out of the office with all those deadlines looming and emails piling up.
The internet provides part of the answer, of course. But the smartest solution for busy electrical professionals is about choosing days out that can be crammed with as much value as possible. By taking advantage of UK Construction Week (UKCW) you can tick off all the above at one event.
If you're not yet registered to attend the UK's largest construction event, here are seven things that ought to convince you to pop over to the NEC on 8-10 October.
1. Products, products everywhere
With over 10,000 products being showcased at the event, it makes UKCW the ideal marketplace to source your new product. With eight different sections ranging from build to timber and from energy and HVAC to civils, everything you need is right there under one roof.
Building Tech showcases the very latest technological advancements in automation, lighting, security and communication technology, and shows how these can be integrated into the built environment.

Key exhibitors include Google Nest, which is focusing on creating a helpful home that takes care of the people inside it. Pinnacle Infotech is on hand to provide a range of Building Information Modelling (BIM) and CAD. The Aurora Lighting Group is returning once again to UKCW. Aurora's AOne Smart Lighting system offers innovative smart lighting products, is compatible with SmartThings and Alexa, and can be controlled from anywhere in the world.
2. That lucky encounter

Meeting face-to-face is the most engaging way to do business, and UKCW can facilitate that. If you have spotted a business that you want to connect with, contact them through the exhibitors' portal and arrange the meeting in advance. 4,000 business meetings were booked by UKCW visitors prior to the show last year, and exhibitors reported that they had generated 70,000 new business leads at the event.
3. Genuine innovation, not another widget
You could leave the future of the industry as a surprise, but where's the business sense in that? Disruptors are now present in many different markets, so this year, UKCW is shining a spotlight on the serious change-makers in construction. To aid the search, a new Innovation Zone has been established in partnership with the Construction Innovation Hub (the Hub).
Marsh Industries will be launching its new acoustic vibration reduction unit, Whisspurr, which is designed to reduce noise and vibration from diaphragm compressors, as part of the Innovation Zone.
4. Your own personal industry MBA
Condense your strategic business learning into one, two or three days of insights. UKCW brings together more than 300 expert speakers including Mark Farmer, who is spearheading policy initiatives on Modern Methods of Construction (MMC); Professor Birgitte Andersen of the Big Innovation Centre; Keith Waller, Programme Director at the Construction Innovation Hub; and Sonia Zahiroddiny, BIM Strategy Manager for HS2.
And if that's all a bit too high level, get stuck into the details at a wide range of workshops. This year there will be more than 150 hours of CPD content available. The programme will take on a different theme for each day of the show, tackling fire safety, health and wellbeing, and sustainability.
There are also numerous mini-theatres addressing additional topics in-depth. SSE Enterprise, sponsors of day one of the Energy and HVAC Hub, will be presenting 'What is a commercially viable alternative to diesel power generators? The SSE case study.' And the company will also be considering 'Game changing generation technology to reduce NOX levels: How it works in practice.'
There's a new Careers Centre offering workshops on career progression, apprenticeships, staff retention, diversity, career change and new talent.
5. A bit of myth busting on MMC
Everyone knows that MMC are back in vogue, but what is the reality this time? MMC is a strong theme at this year's UKCW. Full-scale builds will be erected on-site, with live demos of MMC technology in action. Head to the MMC Hub for other digital demos and simulations too. Examples of the pre-manufactured structures at the show range from a modular care annex for the healthcare sector and a SIPS panel residential building, to a factory-finished modular bathroom pod for the high end hotel sector, and offsite solutions for the education sector.
6. An experience not easily forgotten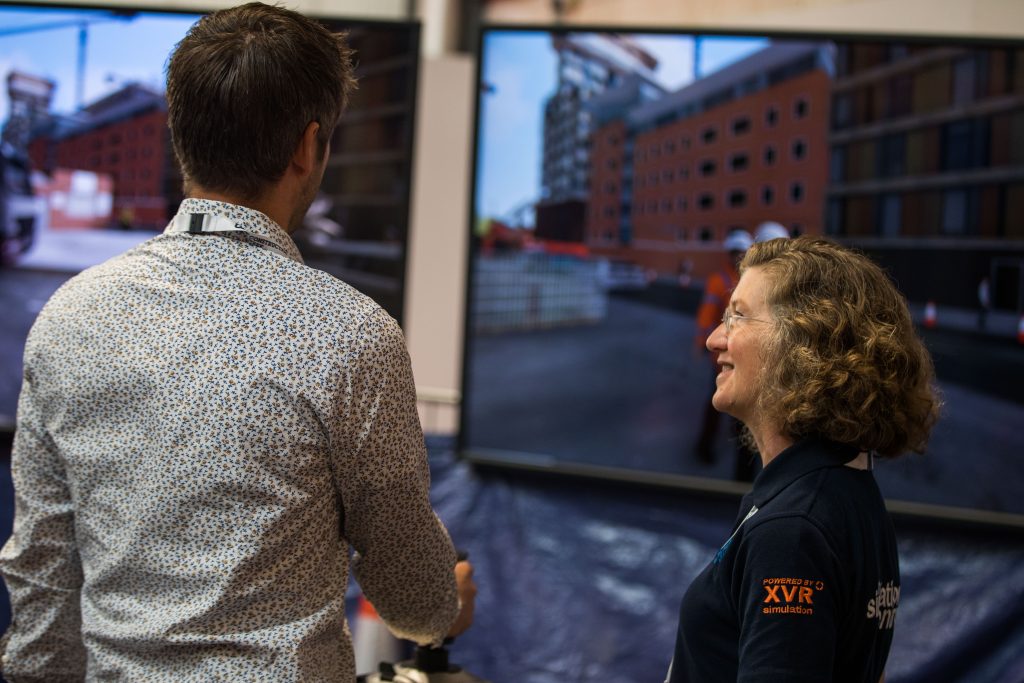 So, when did you last get to run a building site? Make a beeline for the Coventry University stand and its site simulator (pictured). It's hailed as one of the most powerful experiences of any construction show. If you're feeling brave, you can step into the site hut, take on the role of the site manager and get first-hand experience of what it's like to work on a busy project. Not for the faint hearted!
7. Celebrations and a beer festival
Everyone enjoys a good awards night and UKCW is no exception. The show hosts the UKCW Role Model of the year, the new Building Trades Awards with Fix Radio, and the new UKCW Construction Awards. Plus, to encourage young people into construction, the iBuilt competition is back, and the winners will be announced at UKCW.
Don't miss the Beer Festival and look out for the Fischer bar in Hall 11 and the Rawlplug bar in Hall 12. Thanks to its success last year, Rockaoke is back on the Wednesday night to help break the ice. There will be live music, street food and the Gin and Fizz bar also on hand to help visitors mix and mingle during the three-day show.   
UKCW is one event with many sections, including Build, sponsored by Easy-Trim, Building Tech, Civils, Energy and HVAC, Surface and Materials, and Timber. It also features Concrete Expo (8-9 October only) and Grand Designs Live (9-10 October only).
Single registration gives access to all areas of the show. For further information follow visit: https://www.ukconstructionweek.com/