Bolton has received a boost to its building and DIY offering, thanks to the opening of a new, independently run MKM Building Supplies branch. The 2.4-acre site, located on the Meridian Business Park, Manchester Road, signals the return of an independently run builders' merchant to the Bolton area, providing builders, tradespeople and the general public with a comprehensive building and civils offering, alongside a state-of-the-art kitchen and bathroom showroom, all from the same convenient location.
"We're delighted to be open after a lot of hard work to get to this point," explains Tony Masters, co-Branch Director, MKM Bolton. "Our being here signals a significant expansion of choice for the building and DIY markets in and around Bolton. We offer all the plumbing, heating, landscaping and timber supplies you'll need, alongside a wide civils portfolio and a high-spec kitchen and bathroom offering, with an in-branch showroom that enables customers to see our latest designs."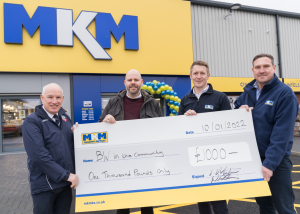 "Being independent is a huge positive both for us and the trade and public in the area," explains Wayne Critchley, co-Branch director, MKM Bolton. "It means you get good local knowledge from a team that is locally established, alongside a fair and welcoming customer service offering and competitive pricing."
MKM Bolton celebrated its opening alongside local charity Bolton Wanderers in the Community (BWitC), an initiative that seeks to harness the power of the football club to drive positive change across Bolton and Greater Manchester. The two announced a new, year-long partnership at the launch, with an initial donation of £1,000 being given to mark the new collaboration.
"We're local people ourselves, and so we wanted to work with a charity that is able to give back to the community we know and love, and BWitC achieves that. The majority of staff here are also Bolton fans, who we've been aware of the charity's excellent work for the local area for a while" explains Masters.
"The £1,000 is our initial donation to mark the beginning of the partnership, but we already have plans for further fundraising activities throughout the year. Community is a big part of our branch identity, and so partnerships like this enable us to give back to the local area we live and work in." Continues Critchley.
MKM Bolton has generated more than 20 new jobs for the local area and is the latest independently run branch across the growing MKM Building Supplies network. It offers class-leading building, landscaping, plumbing and heating and timber supplies alongside a stunning and high-spec kitchen and bathroom offering, complete with in-branch showrooms, all for both trade and public.
"As the largest independent builders' merchant in the country, MKM values outstanding service, excellent local and industry knowledge and a comprehensive supply offering, and these are what we look to provide the communities surrounding our branches with," says Kate Tinsley, CEO of MKM Building Supplies. "I wish MKM Bolton all the best in its new venture and am confident it will provide the best quality service to their evolving community."