Established in Sweden, CTEK is a leading global brand in battery and vehicle charging, supplying the UK market with a wide range of market-leading electric vehicle (EV) charging products and innovative solutions that support the transition to greener mobility. Its most recent development is a 4-socket EV charging solution that makes the swift, cost-effective installation of robust, reliable charging networks easier than ever.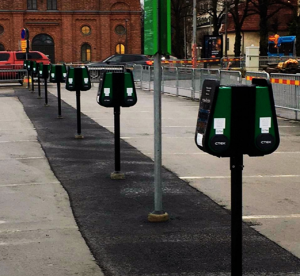 This unique solution features two dual socket CTEK Chargestorm Connected 2 AC chargers, mounted back-to-back on steel brackets on a standard 60mm diameter pole, so four EVs can plug in and charge at the same time.
As you only need one pole and one hole for every four charging points, installation is quicker, easier and more cost-effective, as well as saving on space and construction materials. The chargers can be used inside and out, and they're built using robust, top quality components and materials for maximum reliability and reduced maintenance.
This innovative, space saving charging solution is ideal for small parking areas, including businesses looking to provide charging facilities for their clients, customers and staff. For larger installations, like major public car parks, the sets of four chargers can be linked together in networks of up to 500 individual chargers on 125 poles. This is particularly useful in double row 'bay' parking situations, where vehicle are parked 'front to front'.
All CTEK chargers integrate seamlessly with other manufacturers' chargers and systems through Open Charge Point Protocol (OCPP). And, as demand inevitably grows, more chargers can be added cost-effectively, without any need for system upgrade.
CTEK's market-leading EV charging solutions range from individual EV charge points to larger corporate and commercial installations with multiple charging stations that integrate seamlessly with monitoring and payment equipment.
When it comes to EV charging, whatever the requirement, CTEK has the solution.