Following world wide the launch of the Dickies global multimedia marketing campaign United by Good Work, the brand is now shining a light on a German based community project, Über den Tellerrand.
Building upon 2020's United by Inspiration campaign, which previously championed the dignity of work through traditional artisans and culture-drivers, this fall's United by Good Work celebrates joy and hope as communities can come together again by shining a light on all of the good work that has been accomplished this year and the good work that is to come.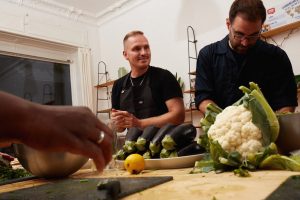 In Berlin, Germany, Über den Tellerrand – part of the social gastronomy movement – has brought individuals and communities together across 35 cities in Germany and beyond via shared interests and diverse activities, mentoring programs, cookbooks and cooking courses. They are driven by a desire to live in a society founded on social cohesion, mutual respect and inclusiveness, and in which all people are treated as equals. At culinary, creative, and sporting events, people from different cultures regularly interact with and get to know and appreciate each other. This sustainable, worldwide, network contributes to the creation of a more open and tolerant society.
"We bring together people who have experienced being a refugee and those who haven't. We do this in a small and humble way, for example we cook together … cooking is a universal language … [we want to show] that it's possible to create community and start up your own Über den Tellerrand in your town or city" says Über den Tellerrand.