For the first time on screen, the EDA's Annual Learner Achievement Awards trophies were presented to 10 outstanding individuals from wholesaler and manufacturer businesses recently. Around 70 guests – family members, friends, and business colleagues – joined the virtual ceremony alongside the Association's Board of Management, celebrating outstanding performances in the Electrical Distributors' Association's Product Knowledge Modules or in an apprenticeship.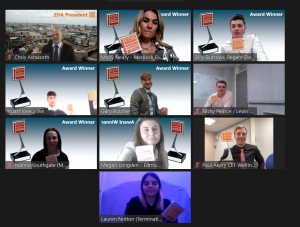 "As President, this event is a high point in my year," says CEF's Chris Ashworth. "It is a pleasure to acknowledge the hard work and dedication that these people have invested in their careers and to share their achievements far and wide to encourage other talented individuals to look for careers in the UK's electrotechnical sector. We need people like this in our businesses today.
"It also proves that learning is lifelong: some of our winners are just starting out in their careers but we are also presenting an award to a Managing Director – Joanne Southgate, MDE Electrical Supplies in Suffolk."
Margaret Fitzsimons, EDA CEO, adds, "The EDA wasn't going to let the pandemic stop us celebrating these fantastic achievements. Now in its seventh year, this is the first time (and hopefully the last) that we've held it virtually. We hope that next year we'll be back at our usual location high above the London skyline at The Shard. Of course, this year's winners will join us there next year alongside the 2022 winners, for a double celebration."
The Awards were sponsored by the EDA's partner in the delivery of the apprenticeship service, EDA Apprenticeships Plus.
EDA Learning Achievement Awards 2021 winners in alphabetical order by company:
Olli Jeffs, Sales Assistant, CEF, Wellingborough, Northamptonshire: for outstanding performance in the EDA Product Knowledge Modules
Megan Longden, Profit Centre Manager, Electric Center, Brighton, Sussex: for outstanding performance in the EDA Product Knowledge Modules
Joanne Southgate, Managing Director, MDE Electrical Supplies, Ipswich, Suffolk: for outstanding performance in the EDA Product Knowledge Modules
Molly Neary, Trade Counter and Admin Assistant, Medlock Electrical Distributors, Waltham Cross, Hertfordshire: for outstanding performance in an apprenticeship
Dyllon Parsons, Sales Advisor, Power Wholesale Ltd, Netherfield, Nottinghamshire: for outstanding performance in the EDA Product Knowledge Modules
William Burrows, Trade Counter Manager, Regent Electrical Distributors, Rochester, Kent: for outstanding performance in an apprenticeship
Callum Partridge, Branch Assistant, Rexel UK Ltd, Braintree, Essex: for outstanding performance in an apprenticeship
Lewis Welham, Warehouse Assistant, Stearn Electric Co Ltd, Leighton Buzzard: for outstanding performance in an apprenticeship
Lauren Notton, Sales Office Apprentice, Termination Technology, Bristol: outstanding performance in the EDA Product Knowledge Modules
James Gulliver, Trainee, Western Electrical, Exeter, Devon: for outstanding performance in an apprenticeship