The Electrical Safety Roundtable (ESR) in the workplace met for the first time at the beginning of 2018, with the overarching aim of improving Electrical Safety in places of work. Representatives of the electrical industry who are responsible for electrical safety within a workplace convened to thrash out what the biggest causes of concern regarding electrical safety in the industry were and decided to initially focus on 'safe isolation'.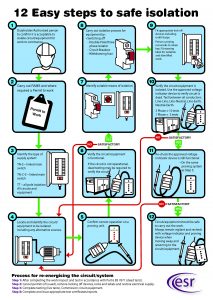 Worrying statistics shows that one in five installers do not carry a lock out kit in their van or tool bag, and 25% of electricians rarely or never use a lock out kit to isolate the electrical supply they are working on. In response to the evident need to raise awareness of safe isolation within the workplace, the group created a 12 Easy steps to Safe Isolation infographic.
We see ourselves in unprecedented times right now, and although there is uncertainty surrounding COVID-19, electrical work is still going ahead, and therefore electrical safety is still very much an essential priority. This new guidance aims to provide support to ensure that workers on site are not exposed to the potentially fatal danger of live electricity. Safe isolation is a necessary process undertaken by competent electrical installers which safely isolates electrical circuits or equipment, prior to completing electrical work.
The ESR created the safe isolation infographic with the assistance of Louise Taggart. Louise sadly lost her brother Michael in 2005 as a result of an electrical incident at work, which should and could have been prevented if safe isolation measures were used. Michael's story has had a massive impact throughout the sector and ESR's goal is to promote this infographic extensively and make safe isolation common practice to avoid devastating accidents like this happening in the future.
Paul Meenan, chair of the ESR's in the Workplace group said "It has been an honour to work with everyone to create the 12 steps to safe isolation infographic. Many accidents are due to the lack of awareness around safe isolation procedures, or the process not being carried out correctly. 33% of electricians who don't use a voltage tester think they are experienced enough not to make a mistake; it is imperative that we change this outlook going forward. This was an obvious place for our group to start and make a difference and I would like to thank all the members of the committee for their first-hand knowledge and technical expertise throughout the process of creating this."