Branded workwear, essential tools of the trade and great lifestyle rewards are now available to electrical contractors who sign up for Hager's new rewards programme – HagerGang Rewards.
Rewarding electricians who buy Hager products for their projects, the programme has already seen a host of rewards being redeem such as the famous blue Hager screwdrivers, branded coffee mugs, and beanies by nearly 1500 installers who have registered for HagerGang Rewards.
So, how does, HagerGang Rewards work?
HagerGang Rewards is a new rewards programme designed especially for electrical professionals across the UK.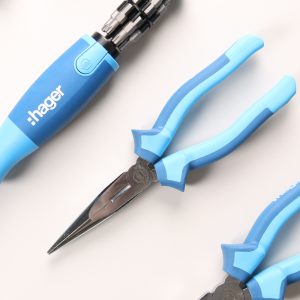 Electrical contractors can register for the programme by visiting: www.hagergangrewards.com. Once registered, a rewards point account is opened, and electricians simply scan purchase receipts or invoices for every Hager product they buy.
Every £1 spent on Hager products earns 1 HagerGang Reward point.
These points can be redeemed against an extensive range of rewards available to view in an exclusive online rewards catalogue.
Why has Hager created this rewards programme?
Hager is committed to supporting the industry through a challenging period and, wants to recognise and reward those professionals who choose Hager's industry-leading range of product solutions.
What sort of rewards are on offer?
The programme offers a wide range of rewards. They include Hager branded clothing items such as baseball caps and essential trade tools including quality Hager branded screwdrivers, pliers, and multi-tools. For life away from the job, rewards such as golf balls, coffee mugs, footballs and Hager branded umbrellas are also available to redeem with reward points.
Is there a limit to the amount of HagerGang Rewards points I can accrue?
While there's no limit when it comes to your HagerGang Rewards points balance, there is a maximum limit of 500 points per invoice. Simply, keep purchasing Hager products and watch your rewards points total grow before your eyes.
What do contractors have to say?
One of the first contractors to sign up was Jack Sardar-Wilkins, from Infinity Electrical. He said: "As an electrical contractor, support from manufacturers is really important, especially following such a challenging time lately. HagerGang Rewards is a great idea makes me feel valued as a customer. I've been having a little browse at the webpage and have been very impressed by the lovely, clean and simple interface. It's also very quick to upload invoices and receipts, which is important when you're busy. In addition, to get rewarded with little goodies is fantastic – the only difficult part is deciding what my first reward will be!"
Getting started is easy
Simply visit hagergangrewards.com and register for the programme. You will also be given access to the HagerGang Rewards catalogue containing details of the range of rewards on offer.
Then scan your invoice that includes Hager product purchases.
Finally, enjoy claiming your points by redeeming rewards from the exclusive HagerGang Rewards catalogue.
Details of how to sign up for great HagerGang Rewards can be found by visiting www.hagergangrewards.com.