What's the best thing about EI Live!? Clearly, it has to be a visit to the AWE Village where you can see so many of the premium products that you need for a great installation all in one place.
Featuring four dedicated technology zones, two projection demo rooms, and a Base Performance Simulator for visitors to test their competitive driving skills, the AWE Village is back with a bang for EI Live! 2022 with its biggest footprint yet – super-sized in line with AWE's growing brand portfolio.
Here, AWE will showcase innovations from Bowers and Wilkins, part of the Sound United family available exclusively to the CI channel, alongside the latest 4K projectors from Sony together with exciting new display technologies, including the new Sony QD-LED and Hisense L9 TVs.
Listen up
The AWE Village will feature two audio zones. Firstly, in the Bowers and Wilkins zone integrators can see the latest architectural in-wall and in-ceiling loudspeakers for home cinema and whole-home projects. These will include 800 Diamond Series and 700 Series architectural loudspeakers and CT series in-wall subwoofers, alongside iconic floor-standing loudspeakers from the Bowers and Wilkins range.
Also here will be the latest custom installation amplifiers by Rotel – the C8 and C8+. These new Class AB amplifiers leverage Rotel's 60-year audio engineering heritage to deliver a higher level of acoustic performance with eight channels of high-performance multi-zone audio.
The second audio zone will showcase processors, receivers, and amplifiers from Denon and Marantz, whole-home audio from by Denon featuring HEOS technology, and more speakers from Definitive Technology.
Prepare to be dazzled
The Sony Demo Room will feature Sony's new XW compact Native 4K SXRD Laser Home projectors VPL-XW7000ES and VPL-XW5000ES – the first public showing outside of AWE's show facility in Epsom. These feature-rich projectors pack a whooping 3840×2160 4K resolution and 8.3million pixels into a small chassis, making them ideal for all installations. The price-point is tempting too, starting at just £6k for the VPL-XW5000ES (2,000lm) and £15k for the VPL-XW7000ES (3,200lm) model.
With rich, inky blacks as well as clear, cinematic motion and image smoothness, the new projectors reproduce colour with more tones and textures than other models at an equivalent price point. Powered by Sony's 'X1 Ultimate for Projector' processor, based on BRAVIA TV technology and optimised for projectors, these projectors feature a dynamic HDR Enhancer and object-based super resolution to create a greater dynamic range and unrivalled image clarity.
Outside of the Sony Demo room will be the Hisense L9 'laser TV'. The Hisense L9 has all the features of a 'standard' smart TV but comes in two-parts – an ultra-short throw laser projector and a 100in, or 120in, ambient light rejecting TV – which is the secret to achieving a big screen experience for under £4,500!
The projector is a single chip DLP projector, but what makes it different is that three lasers – one red, one green and one blue – produce bright, punchy colours (which exceed the BT.2020 colour gamut) instead of a colour wheel. Coming in at 3,000 lumens, the triple Laser engine offers consistent colour and brightness over a 25,000-hour lifetime!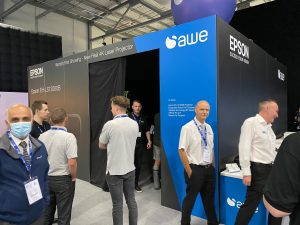 Settle in
The Epson Demo Room headlines with the EH-LS12000B projector which features a high 2,500,000:1 dynamic contrast ratio, 4K resolution (8.3mil pixels on-screen), HDR10+ support, 3LCD and a laser light source. It's equally adept as a movie projector as it is for gaming, offering 4K resolution at 120 frames per second, along with input lag times below 20ms. We're sure you'll agree that it's a projector that stands out at its price point. Room-filling, detailed sound is provided by Sound United while new TV innovations flank the outside walls, with LG and Panasonic bringing their latest products to the show.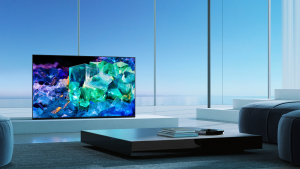 QD-OLED, for your viewing pleasure
Head to the Sony TV zone to learn about the latest enhancements to the brand's 2022 line-up, including some cool new models for Bravia, Mini LED and OLED. Visitors can also enjoy the EI Live! premier of Sony's 65in Bravia XR A95K QD-OLED.
For colour quality, QD-OLED (quantum dot OLED) technology is in a class of its own. Sony's Bravia XR A95K combines QD-OLED with the XR OLED Contact Pro and XR Triluminos Max, boosting colour brightness up to 200% – with pure blacks and the brightest colours ever from Sony.
Visitors can also see Sony's new Mini LED panels, which now have an even higher number of LED's. Each LED is precisely controlled and reacts immediately and accurately to changes in light source brightness for a super sharp image, concentrating the light and almost eliminating all flare or halos. The contrast is exceptional, with deep blacks and dazzling highlights.
Take control
In the control zone, integrators can learn what's new in the URC Total Control platform, including the new Accelerator 3 software, featuring the Expressway option on the software for simpler installations. There's also a display of Ring X-line innovative security solutions and the latest products from Philips Hue and Silent Gliss for effective lighting and blind control.
Gearing up!
This year, AWE invites integrators to get back in the driving seat! Reviving its popular AWE BPS Sprint Cup, integrators can put their foot to the floor and experience the thrill of driving an Aston martin AMR GT4 in the Blade Sim from Base Performance Simulators (BPS). Not only is this a fantastic way to find out more about how these incredible sims can bring the wow-factor to a client's home, but the top three qualifiers will win a private tuition session and go head-to-head at BPS HQ in Banbury.
"We have so much to show and can't wait to get back amongst the action at EI Live!" says Stuart Tickle, Managing Director at AWE. "The AWE Village is always where it's at, and this year is no exception. We have some jaw-dropping technologies for integrators, especially in terms of new innovations in projection and display. Come along and talk to our team of experts about how we can support your next project. You will not leave disappointed!"