Celebrating its 40th anniversary this year, John Cullen Lighting continues to be at the forefront of the ongoing lighting transformation that has revolutionised the lighting industry. Recognised throughout the world for lighting design excellence with award-winning schemes and discreet architectural luminaires, John Cullen Lighting is known for its ability to enhance the enjoyment of spaces through the power of light. Whether working on a town or country residence, garden, hotel or superyacht, contemporary or traditional, the goal is always to integrate with the vision of each client and ensure their imagination is exceeded.
Creative Director Sally Storey is a leading name in lighting who has a passion for the effects and impact of light on space and design, as did the company founder, lighting designer John Cullen. As Sally explains, "John Cullen's philosophy is to create the finest quality of light from the most discreet luminaires; in achieving this, the light source should always be concealed." Nature has provided the company's vision. Inspired by natural light, Sally and her experienced team have developed bespoke schemes that have highlighted the drama that light can create, paying close attention to the quality of light, the discreetness of the fittings and their effects, cleverly illuminating colour, shape, form and shadow according to each individual space and requirement.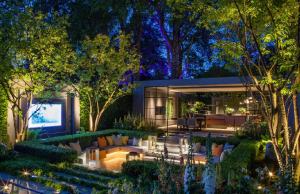 As Sally Storey notes "Lighting is the most versatile interior design tool that can entirely change the way a room looks and feels at the touch of a button. No other interior element can have such a strong impact. Architectural lighting should be as discreet as possible, to look effortless and make any space wonderful to be in."
Sally and her team's extensive knowledge and understanding of light and technology have, over time, helped alter perceptions of how lighting can be used. Today, good lighting is seen as an art form. As an innovator, Sally has transformed the perception of this sector so that lighting is now considered a key element of any project alongside architects, interior and landscape designers. John Cullen Lighting is credited with creating a lighting narrative that in turn has elevated and enhanced the UK lighting industry.
Innovation continues to be a driving force. John Cullen Lighting's own research and development department is adept at adapting to each technological advance and application, creating its own British designed world-class high-quality luminaries capable of incredible effects. Included in its toolbox are some of the most iconic designs such as the classic Polespring downlight that has evolved and improved over the years in response and benefit from the newest technology. It remains the most discreet and elegant downlight on the market.
As a trusted authority in the lighting arena, John Cullen Lighting continues to be inspired by the drama of natural light. John Cullen lighting is looking forward to embracing the newest development in lighting, such as smart technology, and ensuring that its clients continue to benefit from the power of excellent lighting in the enjoyment of their spaces, both inside and out.