Johnson & Johnson has announced that the company has executed three separate virtual power purchase agreements (VPPAs) in Europe, significantly accelerating progress towards the company's ambitious goal to meet 100% of its electricity needs from renewable sources by 2025.
The three VPPAs include a mix of wind and solar projects in Spain for a total generation capacity of 104 megawatts (MW) or approximately 270,000 megawatt hours (MWh) of renewable electricity annually. This amount of clean energy is equivalent to avoiding the carbon emissions from more than 41,000 passenger cars per year, or the annual electricity consumption of more than 82,000 homes. Developed by Enel Green Power, the wind and solar projects are expected to become operational in 2023, and would not have been financed and developed without Johnson & Johnson's commitment, meaning the company is directly helping to accelerate the renewable energy transition in Europe.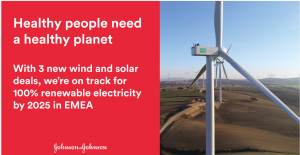 "Johnson & Johnson has a longstanding commitment to environmental health, including two decades of public climate commitments," says Carlton Lawson, Company Group Chairman, Consumer Health EMEA, Johnson & Johnson. "These new VPPAs will cover more than thirty sites in eight European countries. Combined with existing PPAs in Belgium, the Netherlands, and Ireland, we will soon be sourcing the equivalent of 100% of our electricity for Europe from renewable sources — a fantastic achievement that underlines our commitment to ensuring a better, healthier world."
The VPPAs will provide the equivalent of 100% renewable electricity for all Johnson & Johnson property sites across its three business sectors — pharmaceuticals, medical devices, and consumer health — in France, Germany, Spain, UK, Sweden, Switzerland, Greece, and Italy.
Johnson & Johnson's aim to procure renewable power aligns with its Health for Humanity Goals — specifically, its commitment to source 100% of the company's electricity from renewable sources by 2025 and to achieve carbon neutrality in its global operations by 2030. The company also recently joined the Race to Zero/ Business Ambition for 1.5°C campaign with an ambition to achieve net-zero carbon emissions across its value chain.
"As the world's largest and most broadly-based healthcare company, we know that human health and environmental health are fundamentally linked — healthy people need a healthy planet," says Paulette Frank, Chief Sustainability Officer, Johnson & Johnson. "These new agreements are an exciting milestone in our longstanding commitment to climate action and take us another step closer to our goal of powering our global operations with 100% renewable electricity."
"We're delighted to see the positive progress that Johnson & Johnson are making towards achieving 100% renewable electricity across their business by 2025," adds Sam Kimmins, Head of RE100, Climate Group. "They are demonstrating admirable leadership by using impactful procurement to take real climate action."