myenergi has been shortlisted in two categories at this year's Electric Vehicle Innovation and Excellence Awards (EVIES). Taking place in London on 5th October, the prestigious event shines a spotlight on the trailblazing activity taking place across the UK's emerging EV sector.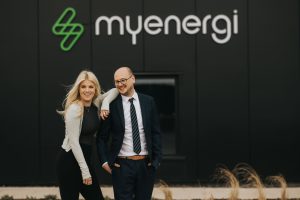 Alongside being named as a finalist in the hotly contested Charge point Manufacturer of the Year (Domestic) category, myenergi's co-founder and CMO, Jordan Brompton, joins some of the industry's most acclaimed leaders in the Special Recognition Award shortlist.
Having founded myenergi in 2016 alongside business partner Lee Sutton, Jordan continues to prove to be a major driving force in myenergi's global growth journey. Her passion, commitment and dedication to sustainability have not only helped the business to expand, but have also helped to inspire change, progress and acceleration when it comes to the UK's transition to electrification.
Renowned for designing the world's first eco-smart domestic EV charger – zappi, myenergi is widely regarded as one of the country's fastest-growing home energy technology businesses. In just six years, the company has grown from a team of two to staff numbers in excess of 400, with upwards of 300,000 units retailed worldwide and subsidiaries in Ireland, Germany, Australia and the Netherlands opened along the way.
zappi is a smart charger with a difference. Alongside operating as a standard mains-connected device, the unit integrates with renewable energy generation technologies to charge your EV with 100% green electricity. If a household doesn't have renewable generation, or if the sun isn't shining, zappi can optimise around your energy tariff to enable charging at both cheaper and greener times from the grid.
Commenting on the news, Jordan says: "When we founded myenergi, the vision was simple – create a positive impact, push the boundaries of possibility and change the world through pioneering green technologies. In the few years since, we've built a global brand, created hundreds of jobs and helped to accelerate the transition to electrification.
"We're so grateful to be shortlisted in two categories at this year's EVIEs. It's a tribute to our whole team – a true reflection of our dynamism, passion, enthusiasm and the success story that we've collectively created – it makes me so proud of the myenergi journey and the progress we've made in such a short amount of time."