As youngsters prepare to receive their exam results across Scotland this week, Scotland's largest construction trade association is encouraging school-leavers to make their future an electric one.
Thousands of teenagers will currently be mulling over their life choices – and SELECT says an electrical apprenticeship is the first step to an exciting and fulfilling career that offers significant potential and rewards.
The trade body points to recent figures that showed a record intake of 738 apprentices for the electrical sector so far in 2021 and says an increasing number of ambitious youngsters are choosing an apprenticeship over traditional higher education routes.
Fiona Harper, Director of Employment and Skills at SELECT, says: "Young people are very aware of the world around them and they can see the direction of travel as far as desirable skills and qualifications are concerned.
"Prominent among them is acceptance that the future will be driven by electricity rather than fossil fuels. From electric vehicles and battery storage to heat pumps and the Internet of Things, more youngsters are realising that the complexities of modern electrotechnology will put electricians in pole position in the employment market.
"There's never been a more exciting time to be an electrotechnical professional, and the opportunity to be at the forefront of the technology of tomorrow is one that we hope will be willingly embraced by Scotland's current cohort of school-leavers."
Ms Harper, who is also The Secretary of the Scottish Joint Industry Board (SJIB), adds: "It's clear that youngsters are recognising that becoming a qualified electrician can provide an extremely rewarding and highly remunerative career.
"As part of this, the opportunity to 'earn while they learn' and gain practical skills in a real-life setting while studying is also an extremely attractive proposition for many.
"The number of young people who have been taken on by companies this year has not only defied the pandemic but also suggests that more young people are seeing electricians as custodians of the future – an image we would heartily endorse."
Ms Harper said it is heartening to see an increasing number of female trainees picking up the tools – highlighting the case of Caitlin Kearney, an apprentice at SELECT member company Quinnergy Group Ltd in Strathaven, South Lanarkshire.
The 21-year-old starred in a video for Scottish Apprenticeship Week in March, telling viewers: "Apprenticeships are the way forward and the future for people leaving school. I'm learning things every day and a trade is the best bet for me."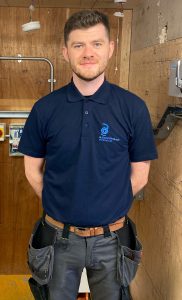 Ms Harper also said the sector is hearing more stories like that of aspiring young electrician, Paul Maxwell, who changed his initial career choice and now works with established Glasgow-based electrical contractors A Alexander & Son.
The 27-year-old recently told SELECT's stakeholder magazine CABLEtalk: "I studied marketing at university but soon realised it wasn't for me. Becoming an electrician gives you a skill for life; it's probably the best decision I've ever made."