He recently acquired new studio premises for a new car restoration TV show and when it came to fitting it out with lighting and security products, Tim Shaw, a long-time fan of ESP products, opted for solutions from the company. Fire detection, CCTV and emergency lighting and products from ESP, have all been installed in the two floor studio which has been specifically designed by the TV presenter and will be where certain episodes of his show are filmed.
In the new show Tim will be doing what he is most well-known for – restoring classic cars. However, this time it will be with the help of their owners.
The studio has been kitted out with the very best equipment in the automotive industry and according to Tim, the ESP products were on a parr – with their exceptional quality, high performance and reliability noted.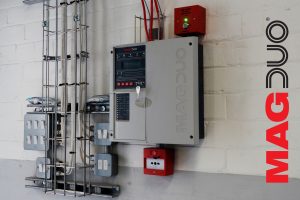 With a studio full of expensive cars and top of the range equipment, a key consideration has been the protection from fire and theft and this is where ESP's security products came into play. Providing fire protection is the MagDuo two-wire fire alarm system – a highly flexible and adaptable system that is designed to save time and money on the installation process.
Tim's electrician was very impressed with the MagDuo range and managed to fit the whole system in about an hour. Two-Wire fire alarm systems are based on standard conventional system technology. Unlike standard conventional four wired systems where the detectors, call points and alarm devices for each zone are wired on separate circuits, MagDuo utilises intelligent Two-Wire technology, which allows all devices to be wired on the same set of two-core zone cables back to the control panel – enabling it to use a single circuit per zone both for detection and to power the sounders. This advanced technology can reduce both installation and material cost. An essential component product for the MagDuo Two Wire Fire System, and one which Tim was particularly keen on, is the FlexiPoint detector device which brings a high degree of flexibility, versatility and convenience due to the inbuilt programmable options it offers. As well as offering 7 different modes of fire detection including combined heat and smoke, the FlexiPoint detector is also available with an inbuilt sounder or inbuilt sounder strobe, which will assist with a compact install solution (as the detector and sounder is all-in-one as opposed to separate units).
CCTV cover is provided with ESP's Rekor IP system. Having looked into options quite late in the fitting out process, Tim was relieved to find that he wouldn't need to send power to each camera, with the cabling requirements that it would involve. The Rekor IP 2 Megapixel range features POE (Power-Over-Ethernet) which enables the camera and power feed to be wired in Cat5e cable up to 100m without the need for additional power, which makes installation much more convenient. A single Ethernet cable provides both the power and the HD digital feed, with just one cable per camera and multiple cameras can be installed anywhere on the network that the NVR is connected to. The NVRs are packed with features, such as remote monitoring via the ESP View App, H265 compression, motion record activation and they're supplied with quality surveillance hard drives for peace of mind.
Twin Spots from ESP's Duceri emergency lighting collection have been used to provide vital back up in the case of a power outage. They offer three hours emergency duration, with charge and discharge protection, and feature a vibrant green LED battery charge indicator and push to fit wiring terminals for ease of installation.
The fittings have been tested to meet BS EN 60598-2-22 Standards (requirements for emergency luminaires), with lumen data independently verified and photometric files available for each lamp head to produce affective lighting design for open areas.
A raft of products from across the Scolmore Group of companies have also been installed, including Click metal clad wiring accessories and Ovia Inceptor Slate Backlit Panels and U-Lite light fittings, plus the Flow lighting management system.
With the ground floor of the studio complete and already being used for filming, work has now commenced on duplicating the facilities on the second floor.