Land around an electricity substation at Ilketshall has been transformed for local wildlife after a pond was restored to allow Great Crested Newts to potentially breed there.
UK Power Networks, which distributes electricity across the East of England, worked with Suffolk Wildlife Trust at the site near Beccles after identifying that it could revive the pond, which had become clogged by reeds, to be home for the newts.
The scheme is part of the company's Green Action Plan to enhance biodiversity at more than a hundred of its sites to attract more wildlife and improve conservation.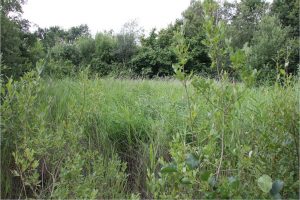 Suffolk Wildlife Trust ecologists surveyed the site last year and a digger removed the reeds and reprofiled its bed. Local engineers ensured that overhead electricity lines near the pond were made safe before work started.
UK Power Networks' environment adviser, Heather Patrick, anticipates the restored pond will have refilled naturally by next year, making it a valuable feature for local wildlife, including breeding Great Crested Newts.
Heather says: "The pond had become overgrown with reeds so there was almost no open water remaining at the start of the project.
"Great Crested Newts have been recorded in and around buildings on the site over the years. Once the pond has refilled naturally and some broadleaf plants suitable for newts to lay eggs in have re-emerged we hope the newts will use it for breeding.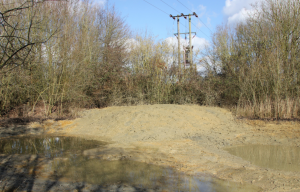 "We are committed to enhancing biodiversity at our substations. The overall decline in biodiversity is down to many factors, including land-use change, overuse of natural resources, deforestation, pollution and climate change which can feel like an overwhelming problem. Our solution is take actions that will help slow or reverse this loss, including supporting local conservation initiatives."
James Simpson, associate director of ADAS, adds: "It is really exciting to see UK Power Networks take a proactive approach to conservation to promote habitats supporting protected species like the great crested newt.
"So many habitats in England have been impacted through destruction and/or neglect so this project is a really good example of what can be achieved by working with our partners and different parts of the UK Power Networks business to restore habitats."
Sam Hanks, wilder landscape manager for Suffolk Wildlife Trust, comments: "This work was funded through a new Natural England-led scheme called District Level Licensing, a strategic approach to mitigating for the effects of development on the habitats that these declining amphibians need.
"Under the DLL scheme many new and restored ponds will become available in the wider countryside than will be lost to development, allowing great crested newt populations to recover to healthy levels, addressing their current population declines.
"Suffolk Wildlife Trust work as a habitat delivery body for this scheme and were pleased to be able to work with UK Power Networks to restore this pond in an important area for great crested newts."