Worcester Bosch is proud to announce the launch of the 7001iAW air to water heat pump and the Hybrid 7000iAW, a low-carbon air to water heat pump and hybrid heat pump and boiler respectively – two new models to make UK homes greener.
The manufacturer is further diversifying its product range to ensure it can offer a full range of technologies for evolving user needs, as greener technologies continue to pave the way for the future of home heating.
The 7001iAW and Hybrid 7000iAW are two such examples, the former a sophisticated air to water heat pump that can provide both cooling and heating for homeowners, and the latter a hybrid system compatible with a range of heat pumps and combi boilers which uses the best of both worlds to efficiently heat the home.
Suitable for renovation (building development) and new build projects, these products have been developed to utilise high efficiency, low carbon technology to deliver all the benefits of using ambient air as the primary energy source for space heating and hot water.
The 7001iAW air to water heat pump has a monobloc design to house all refrigeration circuit components to keep maintenance low, a pre-configured AWE indoor unit for easy installation, an optional standalone Green Storage WB Range Heat Pump cylinders from 150 to 300 litres to provide solutions for even the most demanding lifestyles, and more.
The Hybrid 7000iAW allows the integration of a high efficiency low-carbon heat pump with the benefits of a gas combi boiler, suitable for small to medium properties.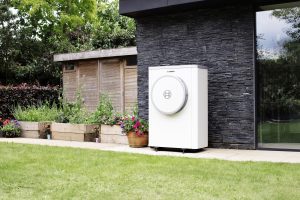 Key features include simple installation through easy access, monitoring of temperatures to operate either the heat pump or the boiler for best overall efficiency, and no requirement for additional DHW storage due to hot water being generated by the boiler alone. Therefore, the product meets the requirements of customers who have traditionally used a gas boiler.
The 7001iAW and 7000iAW will allow homeowners to lead a greener lifestyle at home and contribute to a more sustainable future, central to Worcester Bosch's purpose.
Martyn Bridges, Director of Technical Communication & Product Management, says, "Although many know us as the UK's leading boiler manufacturer, we do in fact offer a full suite of heating and cooling technologies, including heat pumps and hybrid solutions.
"As the country continues to look towards a greener future, we are pleased to introduce further sustainable products to give users more choice than ever on how they can heat their homes.
"The 7001iAW air to water heat pump and the Hybrid 7000iAW will also be a welcome product for installers, who are able to increase their product offering to customers requiring more sophisticated, high-tech options at home."