With customers growing ever shrewder in their search for value, but no less discerning in their desire for style, The NEW Sheer G2 enables contractors to supply on design, as well as on budget!
Hamilton has reacted with the latest 'G2' launch of a long-favoured collection.
Joining the Hartland G2 – launched in 2022, Hamilton's NEW Sheer G2 collection delivers on the same two key benefits for electrical contractors, designers and customers alike:
Simple and robust design
Easy, slip on, push-to-fit plates. The patented design with spot-welded clips ensures robustness and extra stability, as well as making sure the plate fits snugly to the wall for its sought after flat plate appearance.
A budget pleaser
Made from pressed metal rather than cast, the Sheer G2 delivers a significant cost reduction without compromise to the quality or finish – a screwless finish at a box-fix price.
What's new about the Sheer G2?
The Sheer G2 plate comes with on-trend pointed 90-degree corners rather than the rounded corners of the original Sheer collection. A new opaque gasket that fits between the plate and the wall, creates an even more seamless appearance than its original counterpart.
How is the Hartland G2 different to the Sheer G2?
The main difference between the Hartland G2 and the new Sheer G2 is in their proudness from the wall. The Hartland G2 is 5mm thick, while the Sheer G2 is much thinner at just 1.5mm – providing its iconic flat plate appearance.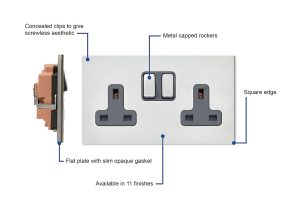 What does new Sheer G2 mean for the electrical contractor?
The back of the socket is coloured bright yellow making it very easy to see colour coded terminals.
The Sheer G2's face plate can be easily removed by inserting a screwdriver into a small cut-out at the bottom of the plate and giving it a simple twist – ideal for when access is required to the back of the socket, or the wall needs redecorating.
Hamilton offers a vast range of configuration options, including Grid option with pre-engraved 20A double pole switches, EuroFix options, plus double sockets also equipped with two 2.4A USB outlets as standard, plus 4.8A Combined USB-A&C output ports for charging phones and tablets.
With eleven on-trend finishes, a choice of three insert colours as well as compatibility with Hamilton's Paintables service, it's easy to satisfy the design preferences of even the most particular of customers.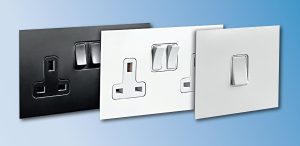 Project perfect solutions
Meanwhile, Hamilton's Bespoke Design service offers even more flexibility. With the support of Hamilton's design team, plates can be custom-made to meet any configuration or finish requirements.
The Sheer G2 collection also comes with a fit and forget *25-year product guarantee.
* Excludes USB sockets and LED Dimmers – 2 Years
To find out more about the NEW Sheer G2 collection from Hamilton Litestat, visit your local stockist or download the G2 range brochure.