The UK's largest electrical contractor serving the new-build housing sector has secured a seven-figure finance package from HSBC UK to support a management buyout and diversification into the renewable energy sector.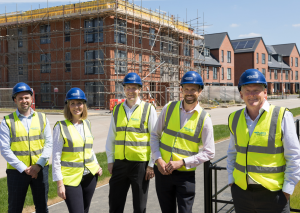 Clarkson Evans has used the funding from HSBC UK to undergo a management buyout, at a time when the business is well placed for its next phase of growth.
The deal will also allow Clarkson Evans to invest more in renewable technologies as demand from builders continues to increase. This includes researching new technologies, working collaboratively with customers to introduce new products and upskilling staff.
With the ban on gas boilers in new-build homes being introduced from 2025 and other regulatory changes coming in to make new homes greener, the company is preparing to install air source heat pumps into new-builds as well as thousands of EV charging points and solar panels.
The firm's new owners include Chief Executive Lindsey Young; Finance Director Doug Sparrow; Production Director Chris Pike; Technical Director Leigh Mason; and Commercial Director Tim Bisp.
Lindsey Young, CEO at Clarkson Evans, says: "Our new management team has 75 years of experience working for Clarkson Evans between us, so we're confident the firm will continue to thrive. We see this move as the next exciting chapter for Clarkson Evans, as we begin to look towards a more sustainable future for the sector and offer additional services to our customer base. Using renewable technology will become increasingly important over the years, so we need to make sure we're ahead of the curve.
"Our relationship manager at HSBC UK, Mark Wilton, has been a fantastic support throughout the process. The funding has allowed us to pursue new ventures and continue to uphold our reputation as a trusted first-choice electrical subcontractor to builders up and down the UK."
James Shepherd, Head of Corporate Banking, South West at HSBC UK, adds: "It's been a pleasure to support Clarkson Evans's management buyout and its journey to becoming a more sustainable business. As the need for greener homes continues to rise, there's no doubt that there will be huge demand for these services in the construction space."